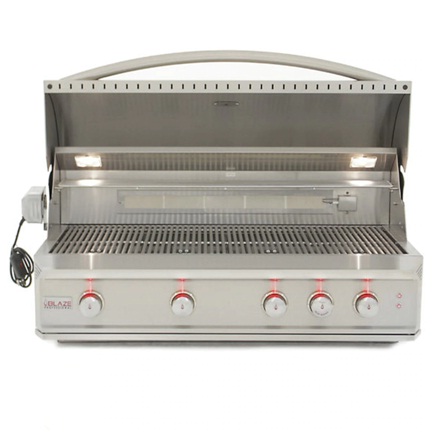 Recently, we've published a few articles about the relative benefits of each type of fuel for a built-in grill, and we've also in the past investigated some of the value that a built-in grill can add to your home. If you've made the decision that built-in gas grills are the way to go for your home and are just looking for some additional ways to identify quality, here are some of them, lifted from actual products that are for sale in our collection of built-in gas grills.
●304 Stainless Steel Construction: 304 Stainless steel is one of the most common commercial grades of austenitic stainless steel, and it is also one of the best. Built-in grills are going to be housed outdoors, in the elements, throughout the year, and so they need to exhibit a high degree of resistance to corrosion. This grade of stainless steel offers excellent corrosion resistance as well as a high degree of strength and easy maintenance on top of it. Many of our built-in grills are made with 304 stainless steel hoods, structures, and components. Tough, reliable, and easy to clean, 304 stainless still will stand by you through many years of enjoyment and grilling with the proper care.
●Rotisserie Kits: Some large or whole cuts of meat (like whole birds) cannot easily be cooked directly on the grates of a grill. That isn't to say they can't be; they can, but oftentimes a rotisserie kit and a rotisserie burner can give you better, more even heating over longer periods of time, and consistently, too. Consistent, even heat, and sometimes even low heat, is necessary to cook large cuts of meat well. Some of our built-in grills come with rotisserie kits to make it easier for you to tackle those tricky cuts.
●Plenty of Power: Naturally, the amount of power that a grill can offer will vary by the specific model, but many of our built-in grills can provide over 100,000 BTUs of raw cooking energy from the combined output of the burners. In addition, grills like our American Muscle 54" Built-In Grill can go from cold to 350 in just 2 minutes. It's like the Dodge Viper of the grill world - high-powered, less preheating time, less time to get ready, and more time spent grilling. Plus, with this kind of power, you can get those amazing sear marks.
●Adequate Space: Just like the objective limits of power that a grill can offer, the amount of cooking space it will provide will vary according to the model. It really all depends on how much space you need. Will you roast an entire turkey or a suckling pig? Do you need space for 48 burgers or even more? Whatever it is, there's a model in our store with enough room and you just need to look for it. Some of our larger grills have nearly 1000 square inches of cooking space for you to wrangle with.
●Heavy Cooking Rods: Some grills have flimsy cooking rods that don't do enough to stabilize the cooking surface, but many of our grills have heavy steel cooking rods that are not only stable but extremely durable. Much like the construction of the rest of our grills, our cooking rods are built to last and to perform, season after season. It's the kind of thing you probably wouldn't ever have missed until you saw what a difference it could make.
●Warming Trays: Most grills come with a warming tray, so it's not unusual to see that listed. They're perfect for giving you a place to warm buns and rolls or to toast them while the meat's cooking, and for infusing them with smoky flavor. At the same time, a warming rack can give you space to remove foods from the heat but without allowing them to cool too much. Some of our models have removable warming trays which are great for two reasons: you can clean them more easily, and it gives you more room under the hood for larger cuts and bigger endeavors.
●Flame Stabilizers: If you're a season griller, and chances are that you are if you're reading this, then you know that flare-ups can be the bane of what would otherwise be a pleasant grilling experience. Some of the juiciest cuts of meat also have a lot of fat, and when you set them up by a sear station, fat melts and runs into the burners. Understandably, that results in a flare. Some of our built-in gas grills have flame stabilization grids to keep the flare ups under control.
●Heat Zone Separators: Many grills, even modern grills, have problems with heat distribution. These issues can result in hot spots and cold spots that affect your control over your food and the time it takes to cook. Even if you don't have issues with hot and cold spots, heat distribution can still be a concern when cooking more than one thing on the grill at once, using different burners. Some of our grills have heat zone separators that create boundaries between the different areas on the grill so you can cook more than one food at once and still exhibit control.
●Infrared Burners: Infrared burners have made a lot of waves in recent years, because they enable you to seal in juices and get an unbelievable sear. Infrared burners, as their name might suggest, emit infrared light. In this fashion, they heat the food directly and waste no energy heating the air in between, since infrared light passes through air. They're efficient and they enable chefs to get excellent sears, cook in less time, and seal in flavor and juices. You can also find them on many of our built-in BBQ grills.
●Double Lined Hoods: Many grills have problems with insulation, and that results in unpredictable cooking times and temperatures and wasted fuel as well. Worst of all, some grill hoods are hardly insulated at all. Some of our grills feature double lined hoods that are industry leading for keeping heat where it should be - under the hood. Technology like this helps you keep a 'lid' on cooking temperatures and times, which gives you more control.
●Illuminated Control Knobs: For whatever reason, a lot of chefs do their cooking at night in the outdoor kitchen. As pleasant as this is, the fact of the matter is that less light makes it hard to see. While it's nice to have outdoor lights to help you see as you grill, many of our models come with illuminated LED knobs so that you can see what you're doing - without additional help.
●Interior Lights: Lighted LED control knobs are just part of the battle. Once you open that hood at night it gets really tough to see what you're cooking. Some people rely on their outdoor lights, some rely on flashlights and others wear headlamps to keep their hands free for grilling. You know what else keeps your hands free? Interior lights under the hood of the grill, which you can find on many of our models.
●Wood Chip Smoker Trays - Gas doesn't give you the same smoking experience as charcoal, but there are ways to be better about it. For one thing, you can exhibit excellent control over gas burners, and for another, some of our grills come with integrated wood chip trays so you don't have to rig up a wild system just to be able to smoke on your gas grill. In other words, it's the best of both worlds.
●Integrated Buckets for Ice or Marinade: No longer will you need to keep a bowl of marinade at the ready when you are cooking your meats so you can give them an impromptu basting. Some of our grills have insulated buckets built right into them for that purpose. Some of them can even be used for ice or as a cooler for drinks.
●Stainless Steel Cooking Grates or Grids: Not all of our grills have stainless steel cooking grids. Some have cast iron cooking grids because of their toughness and longevity. Still, although stainless steel might not be as strong as cast iron, you can clean it much more easily, and with care, they'll last just as long or longer.
●Prominent Temperature Gauges: While many meats will require you to take their temperature directly in order to stay on top of cooking, you'll also need to monitor the temperature at which you're maintaining the grill if you want to see the results you hope for. Many of our grills - most of them, even - have temperature gauges built right into them. It's just a nice little additional feature to make your life easier.
●Included Tools: Some of our grills come with really useful tools that you would really miss once you know what life with them is like. For example, some of our models of built-in grills come with leather gloves to protect your hands from the heat when you're cooking, and many of them come with grate lifters, which can be essential for moving your grates around, especially if they're hot.
●Compatibility with More than One Type of Fuel: When we bring up compatibility with more than one type of fuel, we don't just mean natural gas or propane, although that is nice. What we're talking about here is the fact that some grills are hybrid models that work with charcoal as well, giving you the benefits of both cooking experiences.
●In fact, even some of our dedicated gas built-in grills are compatible with multiple other different types of fuel. The American Muscle 54" Grill mentioned earlier in this article, for example, is compatible not only with propane and natural gas but also natural and lump charcoal, wood chunks and wood logs. It's literally the ultimate grilling experience, and as close as you can get to cooking on a bonafide wood campfire without actually building a wood campfire.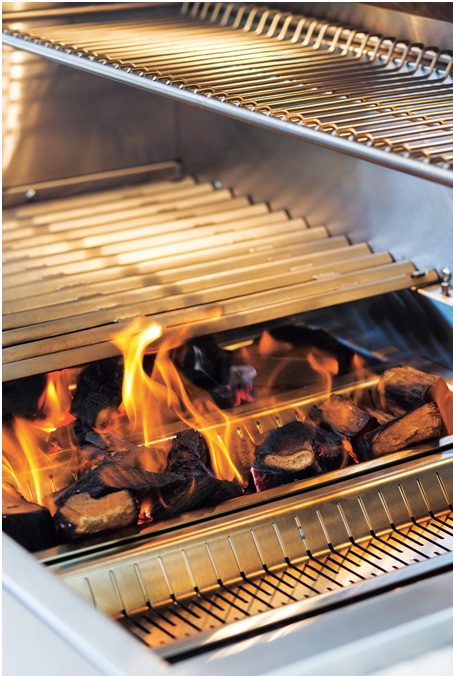 ●Compatibility with Kitchen Islands: Another great thing about built-in grills is that they can be used to create a really wonderful outdoor kitchen design that will add value not only to your cooking experience but also to your home. Built-in grills are ideal for creating an outdoor kitchen island that gives you space not only to prepare food, but also to store food and dispose of waste. The possibilities with them are effectively endless.
●Warranties: In addition to these other amazing features of some of our built-in grills, you'll find that some of them come with truly impressive warranties that will cover you for many years. Take care of your grill and it will take care of you!
Now, keep in mind that not all built-in gas grills will have all of these features, and that they were selected based on their relative merits from our collection of built-in models. Not every grill will have all of these, and some of these features will be traded for others in our collection.
Please see our collection of built-in gas grills at the link featured at the top of this article, but keep in mind that this is an important decision to make for your home, and if you decide you'd like some further guidance, we're never more than a call away. You can reach us at 303-800-5659, and we'd be more than happy to answer your questions and offer helpful suggestions.
Afterwards, you'll be better informed to make a choice for your home and outdoor entertainment areas about what type of grill you want to include. In addition to built-in gas models, we also offer built-in charcoal grills as well as hybrids that burn both gas and charcoal, so you can enjoy the benefits of both. We even sell built-in grills that burn pellet fuel.
Even if you make the decision that a freestanding model is better for your home, we provide many gas, charcoal and electric grills to satisfy any preference. Whatever the case, there's something in our collection for you, built-in or otherwise. If you need help finding it, just call!