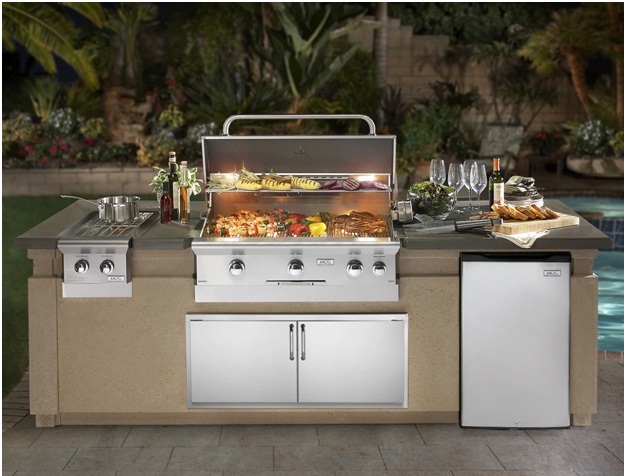 Home improvement and entertaining are open-ended, and they do not always go hand in hand. However, there are some instances in which you can kill two birds with one stone, add some value to your home and make yourself a better grillmaster in the process.
If you enjoy grilling, being in the outdoors, and spending quality time with friends and family, then there might be a real opportunity for you to get a lot of value from a built-in BBQ grill. They're not perfect for every setting, and some casual grillers might not like the high up-front costs associated with them or even have a need for some of the features that come with them, but for others, they're a real bonus.
First, let's take a look at some of the reasons you might want to get a built-in BBQ grill at all. Then, we'll check out some actual options you can go with, before parsing some of the details associated with each of them.
Why Get a Built-in BBQ Grill?
The first thing we need to address is the matter of whether or not a built-in grill is worth the investment for you. It really all depends on your interests in grilling and outdoor entertaining, but to help you decide, weigh some of these considerations in the balance. Here are some of the things you can expect from a built-in grill, regardless of what fuel it uses or how big it is.
1.More cooking space and features
Naturally, whether or not a built-in grill comes with a huge amount of space or not will depend on the size of the model in question. It also bears noting that there are some really large and high quality freestanding grills that we offer here on our website, but for the most part, built-in models are larger and have a higher density of features than their other counterparts.
Some built-in grills are very large and have a lot of cooking space along with additional features that are sometimes proprietary. For example, some of them have rear infrared burners that some cooks love because they are efficient and give you a great sear. Some even come with rotisserie kits and side burners or smoker boxes. To know for sure, you need to start investigating given models, but it's good to know that there are a lot of features available in built in units that will take your grilling to the next level.
2.Higher quality components
This is not to suggest at all that other types of grills are not made to an exemplary standard of quality, but since built-in grills are a permanent fixture of the surroundings into which they are worked, they tend to be made with higher quality components. While some features can be replaced, others are just built to last.
For example, many built-in grills, both gas and charcoal burning models, are made with heavy-duty, heavy gauge, corrosion resistant stainless steel. Since the burners and the cooking grates are also suspect to corrosion and wear, some of these have cast stainless steel burners, some of which are coated, in order to preserve them against corrosion. You'll also find other features in some tough built in grills like better insulation on the hood and fittings that you won't find elsewhere.
3.More space for entertainment and provide a focal point
Because a built-in grill rarely travels alone, there is a lot that comes with the territory. Some homeowners follow in the trend of building an outdoor kitchen around the grill (see below) but even if you don't make a full blown outdoor kitchen island for all of the utility that it can offer, your built-in grill will still give a unique focal point to the setting.
Even a small, portable grill becomes a gathering place for company. People just like to congregate around the fire, and in the absence of an actual fire, the grill fills the roll. Things happen by the grill, food gets made, along with memories. People know that, and so they congregate around them
The experience is simply better with a larger, more prominent built-in model than it is with something smaller and less impressive. Plus, when you open up all that space around the grill, you'll have more room for entertainment - both inside and outside.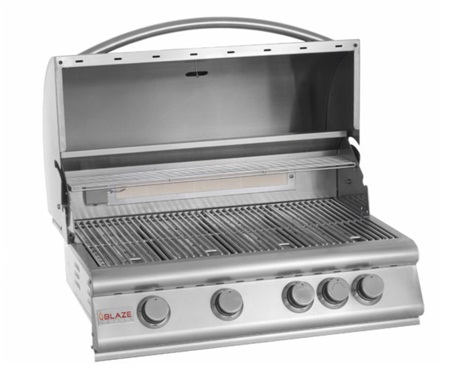 4.Build an outdoor kitchen around it
If you really want to get serious about grilling and outdoor entertainment, a built-in grill will give you freedom and flexibility you just wouldn't be able to have any other way. With a built-in grill, you can really create a next-level outdoor kitchen or even a kitchen island.
With an outdoor kitchen, you can do all of your food prep right there by the grill, with no need to be running in and out of the house. Outdoor kitchens give you space for food preparation as well as space for storage, refrigeration, and even disposal of waste. Usually, you can even work a sink and other features into an outdoor kitchen as well.
With a BBQ island or an outdoor kitchen, you'll really be elevating the experience of outdoor living, for all people involved. Plus, they're just a lot more convenient than the traditional "split-kitchen" model, for lack of a better term.
5.Add value to your home
Finally, and possibly most importantly, adding a built-in grill to your outdoor space (certainly, building an outdoor kitchen) will add a lot of value to your home. Now, this might not matter to you in the short term, but if you are considering the resale value of your home - and everyone does, at some point - then you should consider a built-in grill for just that very reason.
You can get the function and utility from a freestanding grill that you can get from a built-in BBQ grill. You can get a lot of it, anyway, but what you won't get is an improvement to the value of your property. That's something to consider in your evaluation.
Your Options
So, if you're still reading, the chances are that you are somewhat seriously considering investigating options in a built-in BBQ grill. Well, you're in the right place. While you might find alternatives elsewhere, here at Embers Living we make it a practice to offer the highest quality grills and grilling accessories you'll be able to find online. When it comes to built-in grills, these are the classes you're going to be choosing between.
Built-in Gas Grills
Built-in gas grills are built-in grills that burn natural gas or liquid propane. In addition to the many benefits above that a built-in gas model can offer you, here are some of the unique benefits that will come along with built-in gas grills.
Benefits
●High heat capability - While gas does not burn as hot as charcoal, many gas grills can easily be cranked up over 600 degrees. They can also be heated up quickly and efficiently without the need to play around too much with oxygen intake. This is one of the reasons that professional grillers sometimes prefer gas - they can get that high-heat sear without messing with coals.
●Excellent control over heat - Not only can gas grills be heated up quickly and brought to a very high temperature efficiently, with a gas grill, you have excellent control and precision over the heat. With a charcoal grill, for example, you can't just mess with a knob to bring the heat up or down. That takes finesse; not so with a gas grill. With a gas grill, you can nearly immediately make precise alterations to the heat of a burner, either to bring it up or down.
●Instant ignition, plus you hardly need to wait for the grill to be ready - Another thing that a lot of people prefer about gas grills is how quickly and easily they can be lit. This is a huge measure of convenience for a lot of people. Gas grills start right up, quite literally with the push of a button, and will come to cooking temperature in a few minutes at most. It's hard to beat a gas grill, built-in or otherwise, for convenience or quickness.
●Easy to use and clean - Finally, despite the fact that all grills need a thorough cleaning from time to time, gas grills are a lot easier to clean than charcoal grills. You can even turn the heat up on them specifically to burn off some of the waste. Also, there are no salts in the ashes that can interact with water to accelerate rust, since there are no ashes to begin with.
Drawbacks
●Tough to get quite as hot as charcoal - Even though gas grills are capable of generating high heat, it's not really possible to get them as high as charcoal grills.
●Serious smokers tend to prefer charcoal - You can smoke on a gas grill, but smoking just comes as part of the territory with a charcoal grill. Even when you aren't categorically smoking with a charcoal grill, you're still going to get some smoky, charcoal flavor.
●Doesn't provide the same traditional experience as charcoal - There are also just some people that like to slow down and relax, enjoying the process of building up a charcoal fire and the slow cooking that comes along with it.
Built-in Charcoal Grills
In addition to built-in gas grills, we also offer built-in charcoal grill models here at Ember Living. While they can't by the very design, offer the same exact features as gas grills, they do come with some unique benefits.
Benefits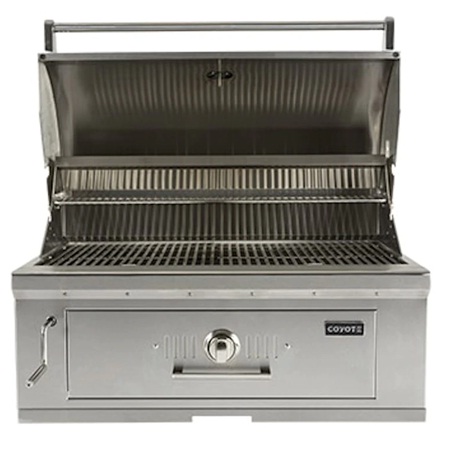 ●Fewer flare ups - Don't get us wrong, charcoal grills can and will flare up, but it can be easier to manage with a charcoal grill. Plus, you can shift the coals around. You can't move the burners on a gas grill.
●The ability to generate higher temperatures - There's no way around this one. Some quality gas grills can generate high temperatures, but a skilled charcoal griller can crank the temperature of a bed of coals up above 700 degrees - although you'll hardly ever need it to get that hot.
●Some people love the flavor - Many grillers around the country, and even more people, just can't get enough of that impossible-to-beat flavor that charcoal produces, even if you don't take the time to actually smoke your foods.
Drawbacks
●They require more skill to use - Some modern grills have enhanced features for oxygen control and altering the depth of a bed of coals, but even with features like these, building and tending a bed of charcoal requires uncommon skill. It's not something you can just walk right into.
●They're harder to clean - Charcoal grills are also harder to clean, and after you grill enough times, you need to empty out the basin that contains the residuals coals and ashes. On one hand, you can reuse any coals that have burned into ash; on the other, it's more work.
●Fewer additional features - Because charcoal grills utilize inherently more primitive technology, charcoal, they offer fewer features in their design than modern gas grills. Still, they can be very effective cooking tools in the hands of an experienced grillmaster.
Keep in mind when investigating these benefits and drawbacks that we also offer some hybrid models between charcoal and gas built-in grills that you can use if you enjoy the benefits of each type of grill. You can have your cake and eat it, too.
Built-in Pellet Grills
As a final note, though most built-in BBQ grills are either gas or charcoal, there are also some unique options in built-in pellet burning grills that we offer here at Embers Living. Check them out and call us if you have any questions.
Not for you? Check Out the Rest of Our Collection!
If you're more interested in a freestanding grill, we'd love to invite you to investigate our other collections of grills and smokers besides our built-in models. You might even find that something more along the lines of an electric grill is better for your home and family.
Nonetheless, if you still have questions, we'd love to help you out. We pride ourselves on our customer service and customer satisfaction is our number one priority. That means, for us, we want to ensure that you settle on the solution that will work best for you, so call us up and we'll help. Give us a ring at 303-800-5659 and we'll help you get there!