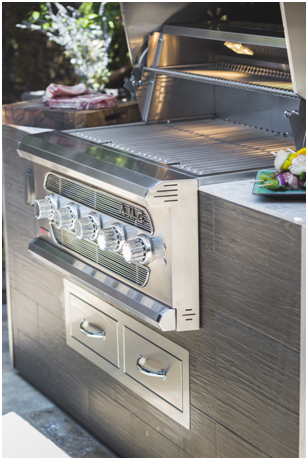 One of the essential parts of summertime is spending time outdoors. There are so many activities you can participate in to stay active in the summer sun, but it is about more than just finding something to do, it's about finding people to share those moments with and enjoying each other's company.
There is no better way to spend to the summer than gathered around the grill and enjoy some great meals and share them with your favorite family members and friends. Being around the grill can be the perfect place to share in some great conversation or reminiscing about some memories of years past that you have shared with those you care about the most. Maybe you can create some family traditions that become annual events and are centered around the grill.
When you prepare your outdoor space, whether you have an outdoor kitchen or just an outdoor patio space that can hold a built in grill, you want to make sure you get the best one. You want to find a grill that provides you with everything you need to satisfy your guests and prepare enough food for everyone while meeting a lot of other criteria. Today, we will provide you with tips on finding the perfect built in BBQ grill and where you can go to find it.
How to Find the Right Built In Grill
An outdoor grill that can fit into an outdoor kitchen space is certainly become more of a growing trend and a hot commodity. There are outdoor kitchens that can come fully-equipped to prepare an entire meal and host a large gathering and there are others that are much more simple and basic, but whatever you choose to do with your outdoor space, it's about finding the right grill that serves as the centerpiece out of your outdoor area and helps to keep you enjoying the outdoors.
There are five basic tips you should keep in mind when you are buying a new grill for your outdoor space, tips that can help you get what you need and still keep other important factors to any purchase in mind. Let's take a look.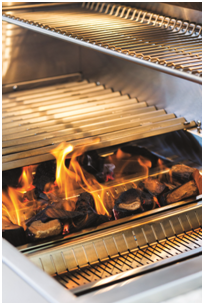 Set a Budget and Stick to It - When you start to shop for a grill, there will be many different styles and some will have all of the bells and whistles and others will be much more basic. While it may be great to fantasize about having one of these fancy and elaborate grills, you have to be realistic about what your budget is and what you can afford. To really do your search the right way, you want to start by not looking at anything and instead setting a budget so you know what you can afford. If you have the ability to invest a lot of money into the grill and can browse among the most detailed and fancy items on the market, go for it. If you can do that without going over your own budget, there is no reason not to explore the possibility. But for people who need to stick to a budget and may have to curb the possibilities of the grill they can get, you want to have a maximum number that you can afford so you can make an educated purchase.
Take Note of the Space You Have - If budget is one of the most important factors when buying a built in BBQ grill, then the amount of space you have is a close second. Just like when you look at a grill and have to consider what fits in your budget and if you need to choose a grill that doesn't have as many features to fit within your budget, you also have to consider how much space you have to add a grill. Built in grills come in many different sizes. You can get a grill that has enough space to prepare food for the small family of four or for a large party of 10 to 15 people at one time. So before you buy, a great part of your preparation has to be observing the space you have and taking the dimensions so you can choose a grill that will properly fit. It can help save you a lot of time finding the right grill for you.
Consider the Fuel Source - When it comes to choosing your fuel source, you need to consider how you want to use the grill. Are you looking for something that you can use primarily throughout the summer? Do you want a grill that has functionality all year round? Is your plan to strictly cook for just family or to entertain large groups with regular parties and gatherings? These help to determine several factors that can help you decide what grill to buy. This helps you determine the appropriate size, power and grill type you should get that is best suited for your intended use. You can make determinations on what kind of fuel sources you want -- whether you want a natural gas or propane grill, a charcoal grill or an electric grill. You then can decide what kind of grate type you want to have. There are so many options available, so you have to make these decisions before you buy a built in BBQ grill so you have a better idea of what you should get based on your own grilling preferences.
Do Some Research - Between the experts at Embers Living and the number of online resources that are available, you have plenty of information available at your fingertips to make the right decision for which grill you should get. Before you jump in and buy something simply because it excites you, do some research and gather some information. Do a thorough investigation of the different types of grills and check on different ratings and reviews to get a better understanding of how people just like you have felt about the grill and its overall performance. It can help you to make a more educated selection and get the right grill for you from the very beginning.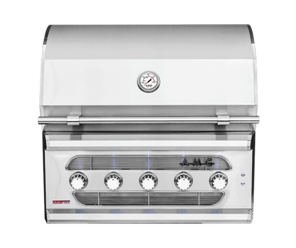 Select Your Features - There are many different features that come with grills today. You can get convection ovens, warming burners, attachments for a rotisserie and much more. While some of these features may seem attractive, you don't want to take on too much that puts it out of your price range. Sometimes a grill has a lot of built in features and doesn't need any of the popular add-ons that can raise the price. If you take a few moments to plan for what you think you will need and what features are not necessary, you can make the right purchase right away and get a built in BBQ grill that you are able to put to use whenever you want.
Why You Should Choose Embers Living
Now that you know what you should be looking for when you make a purchase for a new grill and how you can narrow down your selection by considering various factors, you need to now go to a place that can offer you the best selection of items based on your needs and can help you get the right product at an affordable price.
Here are some of the reasons why you should choose Embers Living as the place to go for your built in BBQ grill.
Large Selection - When you shop for any grill or another other outdoor item, you want to be able to find a large selection of products so that the right item for you is always there. You want to have options. You want to be able to see different items and make your decision by choosing between items, not being forced into a choice because of limited selection. Embers Living is the place to go with a large selection of grills and other outdoor items that all come with different features and in different sizes and styles.
Experts of Outdoor Living - If you are going to shop for an item like a grill or a fireplace, you want to be able to turn to people who are experts in the industry to help you get the best product for your needs. What makes Embers Living so great is that the experts who are helping aren't just experts because they know the product, they use the product. Our staff is always making the most of their outdoor lifestyle with the many products we sell, and they can help you to find the products that are right for you by bringing their own experiences to you.
Great Customer Service - A great place to shop for outdoor living products is one that can help you at almost any time. When you contact Embers Living, you get quick responses to your customer service needs so you can get your questions answered and get expert advice as you need it. It can be easy to make a mistake in choosing a product when making that decision on your own, so choosing the best product for you can be made much easier when you have a guide ready to assist at any moment.
Affordable Pricing - Of course, one of the biggest factors in your decision to buy any product is the price. If you are going to set a budget for your product, you may be able to get something a little more luxurious when you shop at a place that offers great pricing. At Embers Living, you can get the best grills, fireplaces, stoves and more and find them at a great price that you can afford.
At Embers Living, you can get the grill you need to make your summers so much more enjoyable and memorable. Spending time outside is such a big part of summer and if you want to get the best grill, you need to go to the best place that offers you selection, pricing and expert customer service to make everything easy when it comes to making a purchase. Choose Embers Living today and get a product that is going to work for you for years and years to come and be a regular part of your summers and your outdoor lifestyle.