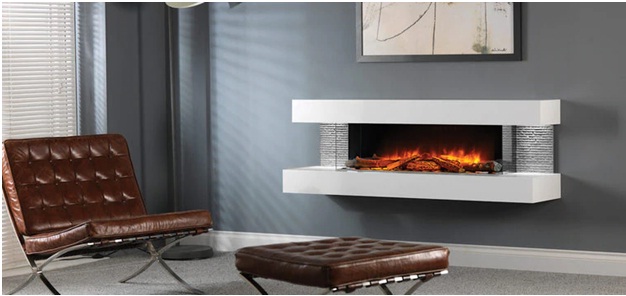 Way back in the day you had one basic choice for a fireplace, whether or not you changed up the look or the size of it. You had a wood burning fireplace, whether it occupied a smaller brick corner, was a large, regal marble piece of art, or a little wood burning stove made of cast iron.
Today, you have tons of different options at your disposal for gas fireplaces and electric fireplaces, with interesting picks like vent-free fireplaces and direct-vent fireplaces in the mix. Among the many interesting options we offer her at Embers Living there are linear fireplaces in both gas and electric, which begs the question: should you get a 60 inch linear fireplace?
They're big, that's for sure, but it just so happens that they might suit the setting perfectly. If you're wondering if one is for you, then consider some of these selling points.
●More Frontage
First up, it's the indisputable fact that a 60 inch linear fireplace is large; like, these are some of the largest models of linear fireplace we offer. Whether you prefer a gas or electric model, a linear fireplace of this size is going to command a focal point in the setting, whether it's indoors or outdoors. They're ideal for large spaces where a lot of people will routinely gather.
Fireplaces naturally serve as a focal point, but a large model like a 60 inch will just give you and your company so much more room to gather around. You'll have plenty of viewing area and so much more room.
●Choice of Gas or Electric
You can also choose between gas and electric models, which will give you a lot of flexibility with what you expect out of a fireplace. With a gas model, you will have the ambience of a real flame, but with an electric model, you can use it solely for the ambiance of the light, which you'll be able to easily change in most cases with a remote control.
●Easier to Use and Maintain
It's true that both gas and electric fireplaces are easier to care for and maintain than wood burning fireplaces, regardless of the size, but electric fireplaces really take the cake on ease of use and maintenance.
Electric fireplaces need basically no maintenance at all, and since there's no exhaust, there's no chimney to clean.
●Change the Lighting or the Mood
You can almost immediately change the mood of a setting with a larger linear fireplace, whether it's gas or electric. Most models will give you the flexibility to change the flame height, speed and brightness with the touch of a button.
Some linear electric fireplaces will even give you the ability to change up the color of the flames, to perfectly accent your lighting system. Do you need a soft, warm light to complement your outdoor lighting system or a brighter, cooler light to set the mood of your indoor space? You can do either with some linear fireplaces; some even come with adjustable accent LED lighting.
●Customize the Look of the Fireplace
Many linear fireplaces come with your choice of a unique assortment of ceramic fiber log sets and with special trim kits that will give you a lot of control over the aesthetics of the setting, even when the fireplace is not on.
In addition to the accent lighting mentioned above, some of them come with your choice of ceramic or glass media in a multitude of colors, so that you can perfectly position the scheme of your setting even when you aren't running the fireplace.
●Electric Models Can be Used with or without Heat
Another huge selling point of large linear fireplaces like a 60 inch model is that electric models can be run without heat in the summertime, or really at any time of year. This is an ideal feature, especially when you have the fireplace in an indoor setting where the additional heat would be oppressive at certain times of year. With that flexibility, you can enjoy the ambient lighting of a fire without getting too hot.
●Enjoy Modern Aesthetics
Whether you're going for a fully modern look or an industrial chic look for your home, a linear fireplace, especially a large, bold one, will suit the setting just fine. They're some of the most contemporary designs that we offer here at Embers Living, so we're sure you'll find something to love!
Want to learn more about what you can get from a 60 inch linear fireplace, whether in gas or electric? Check out our collection via the link above, where you can find plenty of detailed product information.
If that's not enough and you still have questions lingering, get in touch with a member of our team at 303-800-5659. We pride ourselves on our in depth customer experience, so if you have any lingering questions at all, give us a call!