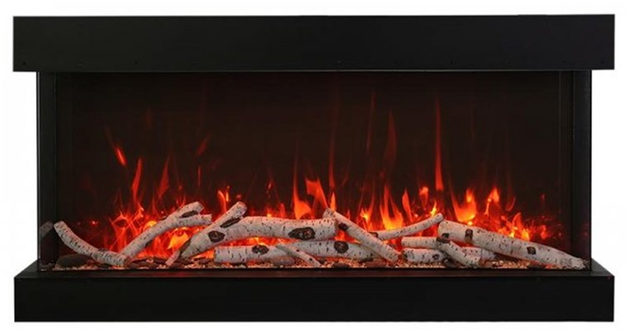 Wouldn't you like to get more value out of your patio or backyard? Maybe you want to be able to sit outside comfortably in the colder months or host outdoor gatherings any time of the year in style.
There are quite a few ways you can go about enhancing your home that may satisfy you or make a significant impact on the beauty and functionality of your home, but few options can compare to the addition of an outdoor linear fireplace. If you are thinking about giving your property a much-needed transformation, this is the route you are going to want to consider.
A linear fireplace is a state-of-the-art appliance that provides attractive visuals, welcome warmth, and a general atmosphere of luxury wherever you need it. Generally speaking, they are far easier to install than traditional fireplaces because they are fully electric, and they can truly be utilized anywhere in your home, to create just the look and feel you want.
Where an outdoor linear fireplace shines is in its ability to add significant value to your home in terms of being able to enjoy your property on a deeper level. How many of us all but abandon our backyards and patios for months out of the year simply because they become inhospitable and just not worth it? Rather than abandoning your patio or yard during the winter months, these electric fireplaces allow you to beautify and enhance the space, adding warmth and gorgeous lighting at any time of the year.
Our yards are often one of the most neglected places on our property, at least when compared to the inside of our homes. If you have the space, you might as well make the most of it and turn it into an area that you and your whole family will be able to enjoy no matter what time of the year it is. From late-night summer barbeques to chilly holiday gatherings, your backyard could become the go-to spot through the inclusion of one of these incredible fireplaces.
The Value of Visuals
Whether we want to admit it or not, the visual quality of our home is important. Often it's the aesthetic appeal that originally captures our attention when we seek out a home, and over time we come to appreciate its more practical qualities. However, the visuals remain an important feature of any home, and keeping up with them is just as important as any other aspect of home maintenance.
In that regard, an outdoor linear fireplace such as the models we carry here at Embers Living can infuse your home with stunning visual appeal. Imagine a variety of different realistic flame options, including color variations and the ability to display even without heat, in case you want to make use of your appliance even on hot summer nights for the visual appeal alone. This is the kind of value that you can expect from a high-quality linear fireplace, as they are simply an easy way to drastically improve the aesthetic aspects of your home.
Enjoying The Outdoors
Depending on what part of the country you live in, a great swath of your property may be rendered useless for several months out of the year. While many of us think nothing of this, doesn't it make sense to invest in a home addition that can help make the outdoor parts of your property more livable, no matter what time of the year it is?
If you have ever thought about entertaining guests on autumn nights or simply would enjoy being able to spend more time outdoors with your family in a comfortable designated place, an outdoor linear fireplace is certainly a viable option. Having the ability to enjoy the outdoors around your home is underrated for several reasons, not least of which is because you already own the space, it makes sense that you would want to get more use out of it.
Spending time outside has been associated with improved health as well as better mood balance. Many of us spend a little too much time indoors as it is and could probably do with more outdoor recreation and relaxation, but this goes double for those of us who live in colder climates. For several months out of the year, we don't get out nearly enough. An outdoor fireplace allows homeowners to make better use of their entire property, enjoying the benefits of the great outdoors no matter what time of the year it is.
Where Can You Find These Fireplaces?
Are you thinking of installing one of these incredible fireplaces on your property? You will be able to find a wide selection of various linear fireplaces right here in our online store. Here at Embers Living, we specialize in home luxury and comfort, providing homeowners with many ways to increase the value of their home and in turn, their quality of life. For more information on our fireplace options, reach out to us at 303-800-5659.