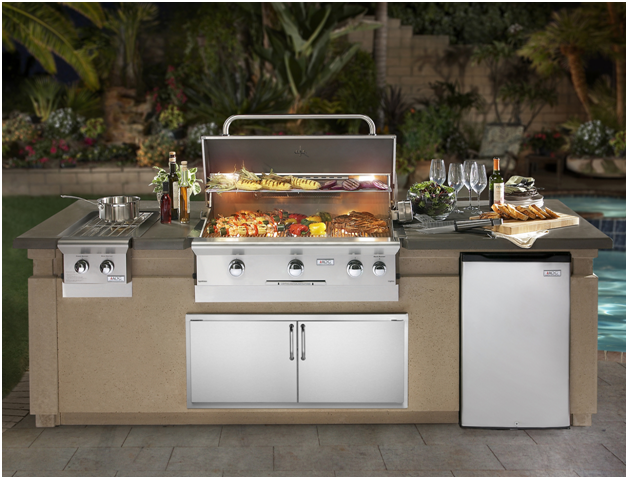 Some of the best times with family and friends are spent outside around the campfire or the grill. There's something about the allure of a fire that just keeps people coming back to its light and warmth. Whatever it is, fires are a focal point, both indoors and outdoors.
When it comes to grilling the effect is even more pointed. Not only is a grill a source of warmth and entertainment, but like a fireplace it also serves as a natural focal point around which people will naturally congregate. Whether it's for the warmth of the flame, the enjoy the savory scents wafting from the cooking surface, or just to engage in banter, the grill draws a crowd.
Grilling is also a great way to get involved and provide your family and loved ones with healthy and delicious food. There are those that will tell you that there is no love like feeding someone you care about, and outdoor cooking certainly puts that ball in your court. Grilling is a great experience overall, and one that can't be replaced by any substitutes.
Since the pursuit of home improvement is a never ending game, you might always be on the lookout for ways to create a better grilling experience and more holistic solution for outdoor entertainment. A huge portion of outdoor living revolves around the space and the fixtures it incorporates, and as we have already uncovered, a grill is going to be a big part of that.
Additionally, there are so many different styles of grills out there. Even if you take away one of those hurdles and decide to settle on a gas grill, you will still need to decide what type of grill you want to get. You can subdivide them largely into two broader categories - built in gas grills and other freestanding units and portable grills. They both offer their own sets of benefits, so let's take a look at what the different styles of grills can offer you as a homeowner and an entertainer.
Built in grills constitute the first category of grills we will investigate. There are no tricks to this - in general, built in grills are exactly that - they are grills that are built into a countertop or other space, and often have an outdoor kitchen built around them. For some outdoor chefs, a built in grill is the only way to go. Here are some of the reasons that proponents of built in models tout their superiority over other grills.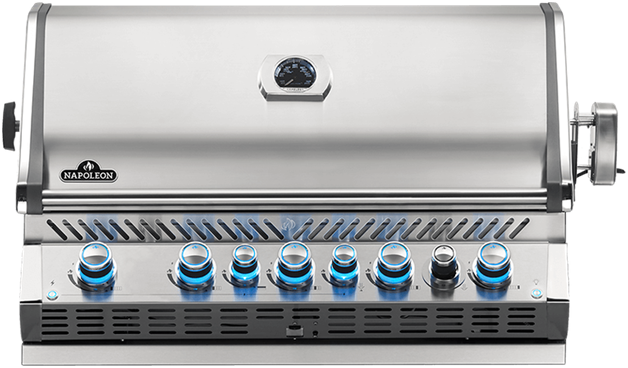 They Tend to Be Built Tough
It's tough in the outdoors, and the seasons can be really rough on a grill. Grilling itself is also a process that, though it is enjoyable, can be hard on a grill. Grills are exposed to high heat and a load of grease, among other things. Then, for the most part, they are left outside all year. Being left outside in the sun and rain can do a number on anything, and grills are no exception to this. Especially in coastal areas, where grills will be exposed to the sea air and salt spray, the effect of the weather can be noticeably deleterious season after season.
This isn't to suggest that other models are not built tough, because we offer many high quality freestanding and portable grills on our website here at Embers Living, but built in models tend to take the cake for quality. Many of the built in grills you will find on our site are made with extremely tough 304 stainless steel to really buck the elements and deliver you seamless performance season after season. This doesn't liberate you from the necessity of good cleaning practices, but it does mean that you will get your money's worth out of a good built in grill.
They Can Increase the Value of Your Home
Many built in grills are built around an outdoor kitchen island, and some people even create entire outdoor bars and kitchens around their built in grills. As we mentioned, a grill is a natural focal point and people will congregate around it. Create a kitchen outside and you could easily double or triple your entertaining space.
That is a point in its own right, but there's something to be said about creating an aesthetically pleasing outdoor kitchen around a built in grill on top of its functionality. It can increase the value of your home. You could just have a backyard, or you can have a backyard that has a great space for entertaining company built around it with all the bells and whistles that you can think of. Some people add bars to their outdoor kitchens along with seating, firepits, lighting and even surround systems. You can really get creative with an outdoor kitchen and that will all spill over into the value of your home.
They Give You Extra Living Space
We touched on this previously, but a built in grill and the outdoor kitchen that you can build around it will give you extra living space. If you've ever entertained a large group of people in your home, then you may be familiar with how cramped things can get, especially if you are all stuck inside your home.
There is something immensely liberating about entertaining outdoors. It might be the fact that entertaining outside just seems significantly less cramped than it does inside. It could also be the fact that people feel better when they are outside in nature. Either way, outdoor living certainly has its benefits.
There's also the fact that outdoor entertaining doesn't take anything away from your indoor spaces. You can be hosting a gathering and have people freely gathering indoors or outdoors, wherever the goings on are going, so to speak. Giving that freedom of choice to visitors will expand your entertainment area significantly, which is one of the reasons why an outdoor kitchen can increase the value of your home, as we mentioned above.
They Are Often More Convenient
Some built in grills also offer a load of convenience over freestanding and portable counterparts. This is not always the case and is bound to vary slightly by manufacturer as well as the specifications of each model, and is largely tied to the size and features of each unit. In addition, the convenience you might be able to get from a built in grill may very well be tied to the kitchen you build around it. Nonetheless, you can wring some serious convenience from a built in grill and an outdoor kitchen.
In the event that you built an outdoor kitchen around a built in grill and added in a load of counter space, storage space and maybe even a refrigerator, you'd have everything you needed right by your side. You wouldn't need to make frequent, aggravating trips back into the fridge, the freezer or the kitchen inside. You could do all of your food preparation right by the grillside and never miss a beat. You wouldn't have to run around and you'd be right there and ready when the food was done cooking. Overall, it's like having the kitchen right by the grill. If you grill a lot or entertain outdoors frequently, this convenience is valuable.
They Can Offer Additional Space
This is another thing that is not an absolute and is going to be tied to everything else involved, but there are some really big built in grills on our site there that can offer you a serious amount of cooking space and power. You will have the freedom of choosing the grill you want which will impact your space, but when you pair that with the reasoning above, it holds a lot of weight. Tons of grilling space and a lot of food preparation space are a great combination, and you can get them from most built in grills.
Freestanding and Portable Grills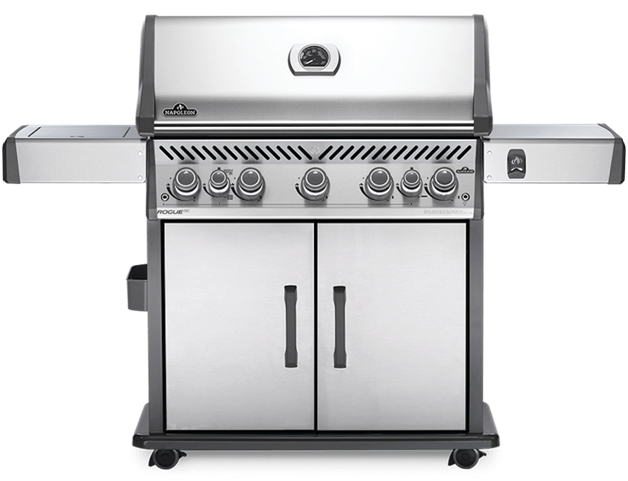 On the other end of the spectrum you have freestanding and portable grills. Though a freestanding grill is not necessarily portable, you will still have the option of moving it around. Realistically, depending on how enterprising you are, you might be able to take one on the go with you, but we'll get to that momentarily.
We've already shown some of the benefits that you will find in built in gas grills. Now consider some of these features of freestanding and portable grills when you're shopping around. You may even find that one of these grills is more suitable for you than a built in model.
More Flexibility
The fact that you can roll a freestanding unit around, and that a portable unit is by definition, well, portable, may well be worth their own convenience. As we stated earlier in this article, the elements are harsh on grills and everything else in the outdoors and the fact that you can move these types of grills to sheltered locations or even take them inside can be very useful.
We did mention that many built in grills are very resilient in the face of the elements, but while that is true, nothing can compare to being able to take a grill out of the elements entirely. It's just something to think about, especially if you are an infrequent griller or don't entertain outside too much. Plus, it's very possible to find a freestanding or portable gas grill with some of the features you want anyway.
Easier Replacements
This is speaking generally, but overall, it can be easier to find replacement parts for freestanding grills than it can be to find them for some built in units. When you come to shop with us here at Embers Living we can make it easier on you to find what you need, but all the same, there are a lot of parts out there for freestanding units that are easy to find and install as well as being cost friendly.
At the same time, if you get a grill that only lasts a couple of seasons or you want to upgrade to a newer model, you can do that much more easily than you could with a built in grill. Removing and upgrading a built in grill is much more of a process. With a freestanding unit, you get a new one, wheel it into place, hook it up to a propane tank and fire it up. That time savings might mean a lot to you, and if so, it's a reason on its own to consider freestanding or portable grills instead of built in units.
Ideal for Smaller Spaces
Another reason you might want to consider a freestanding grill is because in many ways they are more suitable for smaller spaces. You certainly wouldn't be alone if this was your reason for getting yourself one, as many others have done the same thing.
If you have a small backyard or patio, or even if you don't need the full list of functionality that some built in gas grills can offer, a freestanding or portable grill might be a better option for you.
Can Be Taken On-the-Go
While this isn't true of all models, if you are someone who enjoys grilling in your travels, you can take some portable models on the go with you. Whether you enjoy grilling while camping, traveling, tailgating, boating or somewhere else, there are convenient portable models that you can take easily just about anywhere. Now, you'll have to consider that these smaller models will in most cases offer you nowhere near the functionality of built in models, but they are valuable in their own right. Realistically, you could build an outdoor kitchen at home and keep another portable grill on the side that you can take with you when you travel.
There you have some of the things to consider when you are shopping around for a new grill, and you want to consider some of the options out there in built in, freestanding and portable models. Each of them has their own set of benefits, and you might even find that you have a need for more than one grill. Whatever the case, be sure to check out some of the models on our site, and if you have any questions at all on any of our products or accessories, please don't be shy about reaching out to us at 303-800-5659.