Majestic Quartz 36" Top/Rear Direct Vent Gas Fireplace
Majestic
SKU:
QUARTZ36IFTN/QUARTZ36IFTL
Description
The Quartz series gas fireplaces have the features you need with the options you want. Customize for the fireplace that fits into your life. The shallow depth takes less of your living space which makes ambiance accessible to all, while the versatile interior can be changed from traditional to contemporary to fit your style.
Shallow depth allows you to install more places

Customize the interior with traditional or contemporary features

Create a contemporary look now or later

Available in 32", 36" & 42" models *

Up to 24,000 BTUs
* Contemporary glass firebed available for 32" and 36" only
Includes:
17,000 - 24,000 Btu/Hour Input (NG)

16,000 - 20,500 Btu/Hour Input (LP)

5" x 8" rear vent collar

4" x 6 5/8" top vent collar

8 ceramic fiber logs

Full firescreen front and hood

Tempered glass

Glowing embers

Battery backup

Convertible to contemporary

12' control wire

IntelliFire ignition
* Note: to change contemporary media color requires 2 bags
Key Features:
Heat Zone Technology
Draw heat from your fireplace to another room in your home, up to 20 feet away. When a Heat-Zone kit is run continuously, it can redirect up to 25% of the heat to another area, also reducing wall temperatures above the fireplace. Two Heat-Zones run continuously will redirect up to 50% of the total heat output.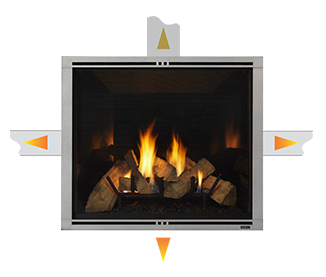 Power Venting Technology
Fireplaces aren't just for exterior walls. A fan-powered accessory with slim venting can zigzag throughout your home—up, down, over or under – making it possible to install a gas fireplace virtually anywhere. This ensures safe fireplace operation and the best flames. Check with your local hearth professional to determine if your home or fireplace could benefit from power venting technology.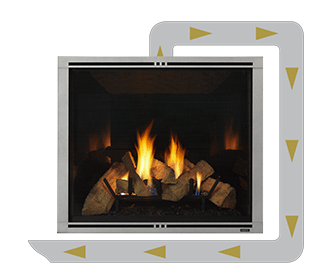 Options and Accessories
Fronts
Available in black finish only

Decorative Panels
Tavern Brown Interior Panels
Cottage Red Interior Panels
UNIT SPECIFICATIONS
| | |
| --- | --- |
| Appliance Width: | 41" |
| Appliance Height: | 37-7/8" |
| Appliance Depth1: | 16-5/16" |
| Appliance Rear Width: | 30-3/4" |
| Framing Height: | 38-1/4" |
| Framing Depth2: | 16-1/4" |
| Framing Front Width: | 42" |
| Framing Back Width: | 42" |
| Fuel Type: | Natural gas or liquid propane |
| BTU/hr Input: | 24,000 (NG): 20,500 (LP) |
| Heating Capacity3: | Up to 1,100 sq ft |
| Viewing Area: | 32-1/16 x 21-1/2" |
Appliance Depth includes entire unit including depth of firebox and extension onto hearth.

Framing depth will vary if you are installing the lower profile power vent (PVLP-SLP) with a minimum vent configuration. 12-1/2" is needed from the back of the appliance to the outside of the exterior wall. Refer to manual for details.

This is a general guide, see your local dealer for help in determining the product that best suits your heating needs based on climate, home efficiency, location of the heater, and air movement in the room.
Heat output will vary depending on the type of fuel used. The flame and ember appearance may vary based on the type of fuel burned and the venting configuration used. Actual product appearance, including flame may differ from image shown. Refer to the owner's manual for complete clearance requirements and specifications. Product specifications and pricing subject to change without notice. For testing and listing information please refer to the owner's/installation manual.
*For select products: Heating capacity to be used as a guide only. See your local dealer for help in determining the product that best suits your heating needs based on climate and home efficiency.
Front View
Top View
Left View
Framing Dimension
Right Side View
Basic Clearance
Efficiency
| | |
| --- | --- |
| AFUE: | 53.0 (NG) / 54.9% (LP) |
| Canada EnerGuide: | 50.7% (NG) / 51.1% (LP) |
Ignition Type:

Electric

Smart Control:

Yes