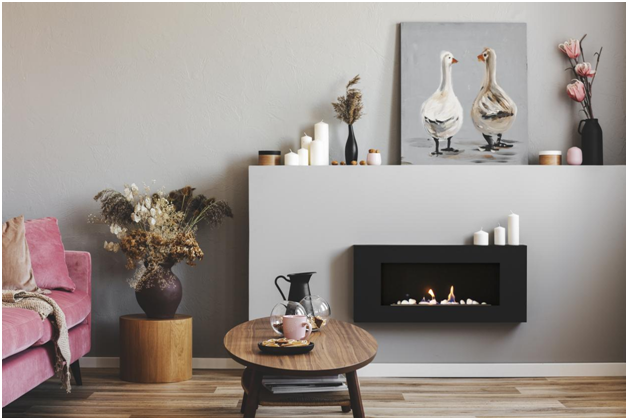 The wintertime and holidays oftentimes provide a familiar backdrop that may be a tradition in your family or just a dream you have for your household. You see the imagery of families enjoying a quiet evening sitting around a fireplace and taking a few moments to relax and unwind. Maybe it is the end of a long workday and it offers a chance to have a few moments of mediation or bring you peace and remove the burdens and stresses of the day. Maybe it is the perfect start to your weekend, not only a chance to unwind but a chance to enjoy the company of others too.
Of course, there is that traditional photographic moment that happens around the fireplace when children sit and admire the flames and everybody in your family gets to spend some special moments together. During the holidays, you may have some light holiday music playing in the background or turned up so you can sing along and share laughs and make memories.
You may be thinking that getting a fireplace just isn't possible because you need to go through so much construction and maintenance to make it happen. You need to somehow have a chimney on your home and you don't want to go through all of the trouble of spending a lot of money and having to wait weeks or months to get a traditional fireplace installed. You need a better solution than that and Embers Living has it.
You should definitely look at the electric fireplaces for sale at Embers Living and find one that fits your home and can be the perfect way to finally get a fireplace into your home, especially if you have always wanted one. There are many benefits to choosing an electric fireplace for your home. Today, we will go through the many reasons you should make the investment and bring an electric fireplace into your home for your family and for your guests, just in time for the winter and the holidays.
Install It Anywhere - Electric fireplaces come in all different sizes and styles, so you don't have to feel limited to the traditional fireplace style. Electric fireplaces can be wall-mounted or free-standing and just placed up against a wall. If you are looking to have the unit installed directly into the wall, it can be done in any room of the house and look like a perfect fit. This also means that the size of your home is not a factor. Whether you live in a small apartment or have a large home, there is room for a fireplace. Installation is not only flexible to any place in your home, but it's also incredibly easy. It does not take days or weeks to have a fireplace added to your home and you can start using it almost immediately.
An Energy-Efficient Solution - Your energy bills inevitably go up during the winter months as you have a constant need for heat. One way to give your energy bills some relief is to put a fireplace to use as a heat source. An electric fireplace can certainly make a room much warmer and it doesn't make your electric bill or energy bills increase. This is known as supplemental heating and can be one of the more effective ways to save some money on your bills and to save energy while still managing to stay warm. Electrical fireplaces actually use less electricity than your home's main heating system, so you do actually lower your energy bills when you choose to get your heat from a fireplace and not rely on your heating system as your only heat source.
Save Money - Obviously, there are a lot of ways you can save through the use of an electric fireplace. You save on your energy bills. You save on supplies -- no need for real firewood or anything to get a fire going. You also save on the actual purchase. Electric fireplaces don't cost as much as traditional fireplaces and don't cost as much to install. This is all dependent on what type of fireplace you choose to buy and if there is a particular style you want, but it can still be much more affordable. This is especially great for families looking to buy on a budget. You can also save money on your home insurance with an electric fireplace. Many insurance companies can increase premiums for homes that use wood burning fireplaces because there is a greater risk for chimney fires and other potential damages. All of these things go a long way to a common goal, saving you money.
A Safe Option - Electric fireplaces for sale are always a great option if you are looking to promote safety. Look, there are obvious safety concerns to a wood burning fireplace. With an electric fireplace, you get to control everything easily. Many units are safe to touch, making them child and pet-friendly. You can also turn them on and off as needed much easier than starting a fire using wood, so you can be enjoying a fire at one moment and if you get interrupted and have to leave the home at a moment's notice, turn it off and be on your way. You run the risk of leaving a fire unattended when you can just turn it off in an instant.
No Mess - For as relaxing as a fire over gathered firewood can be, there is a lot of mess that gets left behind. There are ashes and soot that needs to be regularly cleaned, you need to sweep out the chimney and have maintenance done regularly and the process of getting wood for burning can just be messy too. An electric fireplace takes all of that out of the equation. You don't need to gather firewood. You don't need to clean up after every use. You don't need to do regular maintenance on the unit. You just get to sit back and enjoy and at most, you need to have annual maintenance done to ensure that everything is still working properly. There is virtually no mess and that is something that is always welcome in your home.
Keep the Air Clean - Another reason to look at electric fireplaces for sale is because you want to keep your family safe. We already talked about how an electric fireplace is safe for being around children and pets, but you can also protect your family from more than just touching the unit. A wood burning fireplace can emit harmful fumes into the air and that can be dangerous for the health of your family. When you use an electric fireplace, there are no harmful fumes from the smoke like a real fire, so you are still breathing in clean air and keeping any harmful toxins out of your body.
Easy to Use - Wouldn't it be great if when you wanted to start a fire, you could just walk into the room and do it in an instant? With an electric fireplace, now you can. All it takes is a push of a button or the flip of a switch and you can have a roaring fire going in a matter of seconds without needing a thing. It makes electric fires very easy to use and anyone in your home can start it up. The best part is that it doesn't put a time limit on your fire. If you want to spend an entire night curled up and relaxing next to the fire, you can. Or maybe you only have half an hour to yourself and want to try to get whatever relaxation in that you can, you can do that too. Whenever you have to stop, you can turn off the fire the same way you turned it on, by just pushing the button again and you can be on your way.
Always Reasons to Use - You may think that a fireplace only serves a purpose in the winter and you couldn't be more incorrect. A fireplace can be a great year-round addition to your home and be used at any time. Of course, you will want to use it for the added heat in the winter and there will be chilly nights into the beginning of spring and as fall sets in and winter draws closer that certainly warrants the help of a heat source. But even in the summer, there is a reason to use the fireplace. In some cases, you just want to set the mood and create an environment that helps you tune out the rest of the world. Many electric fireplaces for sale have a way to operate the controls so that you can still have the flames turned on and the heat turned off so you are not getting the heat, but getting the view you want.
Real Look and Feel - Speaking of the view, electric fireplaces give you the look and feel you would expect from a traditional fireplace. There are people who can be hesitant to buy an electric fireplace because the picture in their mind is more traditional. It involves gathering firewood, lighting the fire and hearing the crackle of flames. An electric fireplace can actually deliver all of those sensations without needing to get any wood or take time to light and build up the fire. It all looks real and is so authentic, you won't be able to tell the difference.
With the knowledge of what makes an electric fireplace so great and offers so many benefits, it's time for you to explore the selection of fireplaces available from Embers Living and make your dreams a reality. Having a fireplace in your home is relaxing. It can be the perfect setting for so many things -- a relaxing night alone, a cozy night with a special loved one, a place to entertain guests, every situation applies.
As you consider a fireplace for your home, go to the place where there are electric fireplaces for sale at great prices and where you can get the help you need to make the right choice for your home.
Embers Living has many top brands in stock and offers incredible value so you can add the fireplace you have always wanted to your home. We are experts in fireplaces and outdoor living and lifestyle products and can help you make the best selection. Many of the products you see, we have already tried and currently use ourselves in our own homes. Our team knows everything there is to know about these products and can help you make the right choice based on your needs and your budget. Our goal is to provide you with an educational and informative experience from start to finish that is fully immersive so you get to know the products before you buy. We don't want you to just enhance your outdoor lifestyle, we want you to know the product and how to use it before you buy and to know what others who have purchased before have thought out their experiences while buying and in experiencing the product for themselves.
If you think time is running out to get a new fireplace for your home before the winter and the holidays arrive, think again. Now is a great time to make this purchase so you can have the fireplace installed just in time for Thanksgiving and ahead of the holiday season and new year, just in time for colder temperatures over the winter months.
So give Embers Living a call today at 303-800-5659 or fill out the contact form on our website and let's get the process started on finding the perfect fireplace for you. Make a special and a welcome addition to your home this holiday season and give your family a gift they can share for years to come.