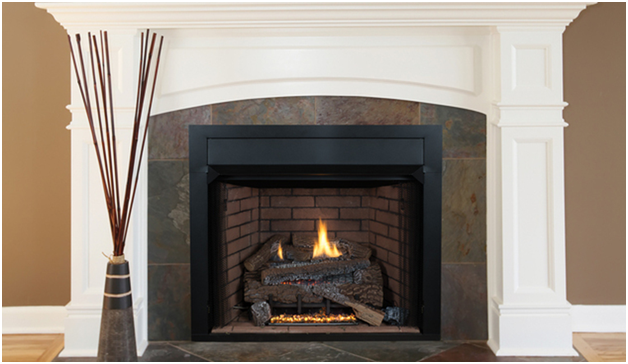 Whether it's a part of a storybook setting you loved as a child or a part of your family history, like the home you grew up in, having a fireplace in your home can be a relaxing element that welcomes people to gather, to enjoy each other's company and to find peace and quiet. It can be used at various times of the day. It can create the perfect setting for relaxing after a long day or work or just creating the perfect atmosphere for gathering with friends and family.
Unfortunately, it is not possible for every family home to have a traditional fireplace. That's where a Superior gas fireplace can become the perfect choice.
A gas fireplace has a lot of great benefits that can make it a better choice than a traditional fireplace. As you consider the options you have in front of you to bring a fireplace into your home, here are a few of the reasons why a gas fireplace is the right choice for you.
Easy to Use - A gas fireplace is very easy to use. Just the push of a button or the flip of a switch can get a hearty fire going and you can sit back, relax and enjoy. With a traditional fireplace, you have to gather firewood, light it and get it going before you can sit back and really enjoy the fire. A Superior gas fireplace is also easy to turn off, so in a moment's notice you can stop a fire. Imagine being able to start a fire and enjoy it, even for just 15 minutes, before you have to be on the go again with your busy schedule. You could never do that with a traditional wood-burning fireplace.
Low Maintenance - Another benefit of gas fireplaces is that they require very little work in terms of maintenance. A traditional wood-burning fireplace constantly needs to be cleaned after every use. A gas fireplace allows you to constantly enjoy a fire without having to worry about cleaning up or constantly maintenance. Just a regular cleaning every several months or even just once annually is enough.
Realistic Look and Feel - One of the things people love the most about traditional fireplaces is that it offers the look and feel that they desire most. It's in the crackle of the fire, the smell of the log burning, the heat that comes off the fire and the overall appearance that makes it so appealing. If you have concerns that a gas fireplace won't be able to offer the same thing, rest assured that these fireplaces are designed to produce a realistic look and feel. From the overall design of the fireplace structure to the way the flame and logs look in a gas fireplace, you still get the full experience without having to start your own fire using wood.
The Safe Choice - As beautiful as a real fire can be, it can also produce harmful fumes that can be breathed in by your family and friends and can have an effect on health. A gas fireplace just produces the heat and no harmful fumes, just another way you can sit back and enjoy the fire without any worries or cares. It helps to make it even more of a relaxing setting.
With all of these things in mind, you want to find the best place to go to get a Superior gas fireplace to bring into your home. Gas fireplaces come in all shapes and sizes, so you want to know which one is the best for you and your home. When it comes time to make that choice, you need to go to a place that can offer you the best selection.
Embers Living is the best choice for you, with a wide range of gas fireplaces, including a Superior gas fireplace, available for sale at a great price. When you choose Embers Living, you get a great selection of fireplaces that are available that can be the perfect fit for your home. You get affordable pricing that makes bringing a fireplace into your home a possibility.
Most importantly, you get a customer service team that can help you every step of the way as you make your purchase. These are experts on outdoor lifestyle products and many of them use the same products in their own homes. They can help you to expand your outdoor lifestyle with the right fireplace for your home.
Now is the perfect time to add a fireplace to your home and have it at the ready for when you simply want to create that perfect relaxing setting to help you unwind from the stresses that daily life can bring. Make Embers Living the place you choose for everything you need with your outdoor lifestyle and get the fireplace you have always wanted today.