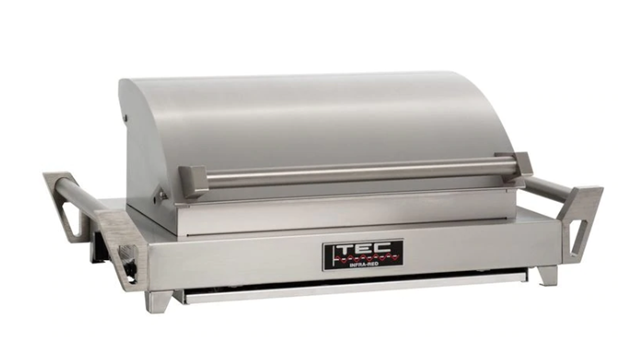 Grilling is an activity that many people enjoy throughout the course of a year. Some people just can't get enough of grilled food, so much so that they crave it even in the grilling offseason. Could you image a tailgate during football season without grilling? It just wouldn't be the same. Even in the colder temperatures, having a grill that you can take to a tailgate can make the experience that much better.
If you are an avid camper or love taking trips to various places like the beach, the mountains and lakes, you want to be able to take grilling capabilities with you. A trip to a campground or lake can involve hunting or fishing and you want to be able to grill your food while on site. Having a portable grill gas powered can make a huge difference in how you enjoy your travel.
In general, a portable grill has many uses and there are several reasons you should purchase one. Today, we will look at these reasons and some of the options you have when purchasing portable grills.
Easy for Travel - A portable grill has to be something you can easily take with you on the go and there are a few places you can go. People who love the outdoors absolutely need to have a portable grill, but there are also people who simply love to be regulars at tailgates ahead of sporting events or concerts and want to supply their group with food. Portable grills are also good options for people who live in tight spaces and may need to move things around on a regular basis to free up a lot of space.
Ample Cooking Space - You may feel like a portable grill is going to be small and leave you limited in how much you can cook. There are portable grill options that can give you more than enough cooking space to be able to feed your entire group in a timely manner. It will certainly make it feel like you have the capabilities of cooking on a full-size grill.
Set Up in Minutes - Any grill you travel with needs to be able to be assembled and set up in a short amount of time. If you are constantly on the go, whether you are just trying to set up your camp for the night or traveling the country stopping at various campgrounds and only having one night to enjoy the area and have a meal before you are on your way again and need to pack up the camp. You don't want to waste time and get frustrated by setting things up with your grill for hours. You want to put aside as much time as possible for enjoying what's around you and not getting frustrated with your grill.
Quality Cooking - You could try to cook food over a fire, but you can never really be sure that the food is being cooked the way it needs to be. When you have a quality portable grill, you know what you need to do to make sure everything is cooked properly. Having a device that can give you quality cooking in a pinch is always a great part of being on the road and allows you to get good meals, even when you can't be home.
Outside of the reasons you should have a portable grill gas, you should know what you are looking for when you go to purchase and have some tips for selecting the right grill for you. There are a few to keep in mind as you make the selection of a new portable grill.
Fuel Source - With any grill you buy, you want to consider the fuel source and find the one that is best for your needs. Charcoal grills can be great portable grills because charcoal is so easy to find and sold in a variety of places. Gas runs off of propane tanks that can be easily transported or off of natural gas that can require a direct connection. Electric grills can operate simply by having a working outlet accessible. There are grills that use wood pellets as well. You have to determine what the easiest method is for your portable grill and always make sure you are prepared during your travels is you need a specific materials to get your grill working like propane or charcoal.
BTUs - BTUs are a measurement of energy. You see this figure a lot on appliances like grills, air conditioners and stoves, and when it comes to buying a grill, you need to find one that is efficient. A higher number isn't always the best. You need to consider the other factors with the grill and how they affect the BTU figure you see before you buy.
Surface Area - Any grill purchase you make is going to be based on what you need the grill to do from a performance level. If you are going to be out and about and just need enough space to prepare a small meal here and there for yourself and maybe a couple of friends or a small family, the surface space of the grill doesn't matter as much. But if you are going to be the life of the party at your local tailgate or preparing food for a large family or a lot of friends on a vacation, then you need to have enough surface space on the grill. You also have to consider the food you plan to prepare. If you are going to just prepare the basics like burgers and hot dogs, you know what to expect and can potentially get away with something smaller. If you plan to take on larger pieces of meat like grilling a whole chicken or turkey, you need to think bigger when it comes to surface area.
Grill Size - The size of the grill may seem similar to the surface area, but there are distinctions. The grilling surface is important, but the grill size is just as important. If you are getting a portable grill, you need to make sure it is something that you can easily transport to the places you want to go so you can enjoy grilling on the go. There are portable grills that are larger in size that you could keep in the yard or within your home, but for something that can travel with you on the road, you may have to think smaller, whether that's because of the travel itself or your needs and the amount of cooking you will be doing.
Materials - The materials the grill is made from are also important. The body of the grill can help it heat up faster or retain heat better. The grill grates are also made from a variety of materials that can make for a better cooking experience or more importantly easier cleanup and maintenance. If you are going to be on the road all the time and taking your grill to various places, you want to have something that doesn't require a ton of maintenance.
Price - Obviously the most important factor for choosing a portable grill gas is the price. Grill prices can vary depending on different factors, some listed above like size and fuel source. When buying a grill, you will likely be operating on a budget and you want to find something that stays within the budget but also fits your needs. The best way to do this is to find a good balance. You may have to sacrifice some size to meet your best price. You should also look into places that offer great value for grills at wholesale prices, such as Embers Living.
When you choose a place like Embers Living, you are not just getting a great product at a great price. You are getting the right product too. Choosing a grill is not as easy as it may seem. You have a few things to consider, notably the size of the grill, your intentions for how you plan to use it and even what kind of grill to get. Whether you are choosing a portable grill gas or a built-in natural gas grill or a small portable charcoal grill, you want to make sure that no matter what, it is the right choice for you.
Doing your research before you buy is important then. You want to explore all of your options and compare different models to find what is best for you. You want to read up on these products, get to know their capabilities and features and understand why they could be valuable for you. You want to see what others who have used that kind of grill have to say about it. Does it perform the way you want? Are there any unknowns that should be known? You want as much information as you can get before you buy.
That's why at Embers Living, we have a customer service team that is here to help you choose the perfect grill. The staff at Embers Living know the products because they have used them in their own lives. We want to help you enhance your outdoor lifestyle and better connect with the outdoors. It can be through a portable grill that allows you to enjoy that pastime while on the road and traveling to see other parts of the country. It can be a fireplace outside of your home that provides some warmth but also great ambiance for feeling completely relaxed and at peace.
Whatever you need to make your outdoor lifestyle even better and truly connect with the outdoorsman within you. When you choose Embers Living, the goal is that you will turn to us for anything you need to make this connection.
We aim to provide an immersive and educational experience that helps you to find the perfect products. We strive to make each interaction more personal and target your goals and hopes for whatever we are installing.
Whether you are looking for a portable grill gas as a last-minute way to get involved in your favorite tailgate this football season or just as a gift for someone you know loves to spend time outdoors, now is the time to take advantage of the best selection and best prices we have available. Feel free to contact us with any questions or concerns and remember that Embers Living is the place to go to find all of the things you need for a better outdoor lifestyle.