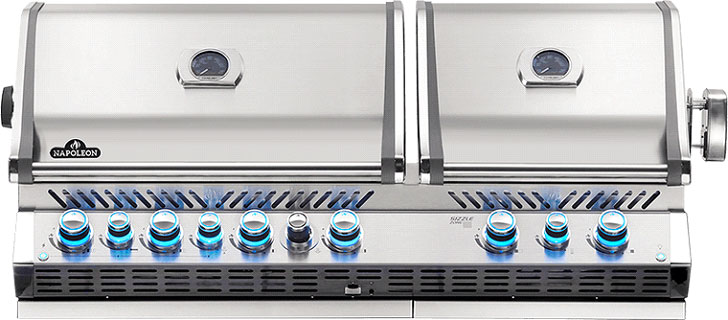 Built-in grills are a great way to take your grilling passion to the next level. While there is a certain level of convenience that comes along with the package of a free standing or portable model, there are other conveniences that come along with built-in gas grills.
For example, many built-in models are made to the highest of quality standards with a number of features that other smaller grills just don't offer. In addition, many built-in grills make it easy to create an outdoor kitchen island around them, and that in and of itself is a selling point. An outdoor kitchen island can make your cooking experience much more enjoyable and convenient, as you can keep all of your cooking essentials in one place and take care of your food prep there as well. As you will see with some of the models we investigate, many of them are custom built for convenience and efficiency.
With all of that said, any time you drop a superlative, it's going to require a little bit of personal investigation to determine what is meant. Whatever the 'best' of anything is, it requires the person making the statement to set some qualifiers for those accolades. For example, it would be very difficult to define the "best built-in gas grills" for someone who does not spend a lot of time grilling, but for someone who does, you could look at some great options and go through some of their strengths. Therefore, we don't claim that these are the best of the best, but they certainly deserve some in-depth investigation, especially for anyone who takes grilling seriously.
Built-In Prestige PROTM 825 Grill Head with Infrared Bottom and Rear Burners
This built in grill, which can take your choice of fuel in liquid propane or natural gas, comes with plenty of capacity for feeding a crowd along with a lot of flexibility when it comes to precision cooking. Because of its size and power, it offers plenty of different cooking options as well, including cooking over indirect heat, using the rear burner with a rotisserie kit as well as infrared searing. You can even use this grill as a smoker with the included wood chip smoker tray.
Cooking at night is also no trial with this grill, because the control knobs are LED lit so you can keep precision control over your grilling; in fact, they even glow red as a safety feature when the gas is left on.
Finishing off the package is the fact that this high quality grill is made using premium stainless steel construction to stand up to the elements by providing for a seamless grilling experience.
Alfresco Grills 30" Luxury Built-In Gas Grill
This built in grill, which is a shining example of the type of high quality stainless construction that makes Alfresco a legend in the realm of outdoor grills, makes the most of a number of different features that are ideally suited to serious grilling.
This grill comes with two stainless steel high performance AccufireTM main burners and offers 542 total square inches of cooking space. It also comes with an integrated rotisserie system with an infrared burner, an integrated smoking system and a 3-position warming rack that stores out of the way.
It also comes with push button ignition and is lit by integrated high-intensity halogen lights so you can easily see what you're doing, even in the dark. One more note - this grill also comes in your choice of natural gas or liquid propane.
Summerset American Muscle Grill 54" Built-In Gas BBQ Grill
This is another great grill for those looking for a big cooking surface and a lot of functionality. It comes with tons of power and a number of user friendly features to elevate your grilling experience. It boasts of 304 stainless steel construction to serve you through many grilling seasons and comes with 14 staill steel burners capable of delivering over 100,000 BTUs of power - it can go from cold to 350 degrees in 2 minutes.
It's double lined, has interior halogen lights, tons of space and much more - much more importantly, it doesn't only use gas. It can also be used with charcoal and even wood pellets, giving you the flexibility to cook with a number of different fuels. If you're looking for the best built-in gas grills, your list should at least include this one for investigation.
Given any individual's tastes, there are a number of personal reasons that anyone might use to qualify them as some of the best built-in gas grills. On top of the features that each of these individual grills offers, you can consider the convenience and precision of gas as well as the fact that it is cost effective and easily available.
If you want to learn more about each of these individual grills, reach out to our team of professionals and we would be glad to help you out. Just as we are committed to setting up our clients with the solutions they need in fireplaces and heating, we are firmly committed to providing our customers with effective and practical grilling solutions. Give us a call at 303-800-5659 today and we will work by your side to help you settle on the best options out there in built-in gas grills.