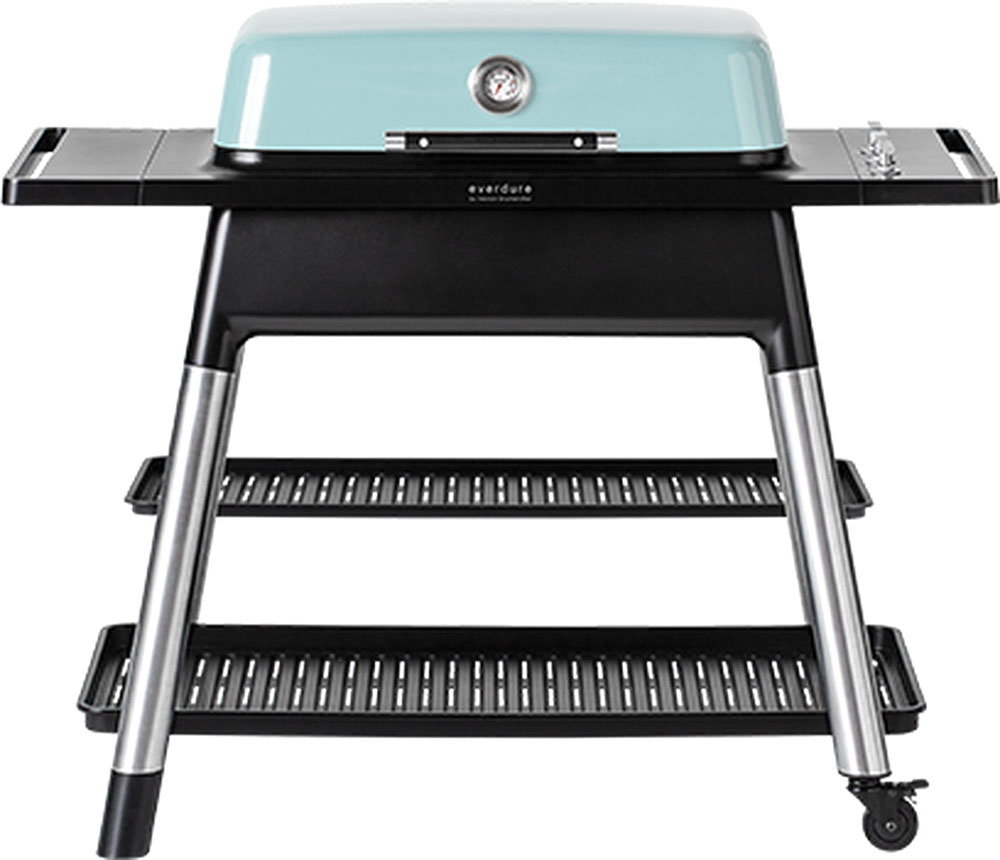 At Embers Living, we've done our fair share of defending the virtues of built in grills. We recognize that there's no better way to build up an outdoor kitchen, take your outdoor entertaining to the next level, and even improve the value of your home than with a full fledged outdoor kitchen. They can also provide a cooking experience like no other - everything is right where you need it, you can prepare your food grillside, and get everything done in one place.
At the same time, we accommodate the virtues of many different fuel types. Some really love the rich, deep, delicious flavor of food cooked over charcoal or pellets. At the same time, gas, and infrared cooking using gas, enable a level of precision that you almost can't attain any other way. There are even times when there is something to be said for the value of convenience and cooking efficiency that comes along with an electric grill.
Because customers all have different tastes, we provide a little bit of everything to meet those tastes. In doing so, we offer one of the most comprehensive collections of grilling and heating solutions in the industry, and we are proud to offer some of the highest-quality examples of grills, fireplaces and accessories that you will find anywhere.
With that said, there is a time and season for all things, and there are some situations in which a portable grill will have some real advantages over a built in model. In addition, for these five situations wherein you might want to use a portable grill, gas is the way to go.
Before we get into the specifics, keep in mind that the features of other grills that make them so useful in their own spheres make them less than ideally suited for portability. Take built in grills as an obvious example. They're built in - the party has to come to you because they can't move. Most of the time, that's probably more than fine, but for those occasions where you need to take the grill to the party, they just won't work. Then there are times when the nature of the situation will preclude certain fuels like charcoal or electricity, but we'll get back to that in a moment.
The basic virtue of a portable grill is just that - it lies in its portability. We don't aim to convince you to replace your beautiful built in unit, or even to give up charcoal and replace it with gas. All we're here to do is to show you how you can supplement your catalog with a wisely chosen portable grill, and as we mentioned, sometimes in a portable grill gas is tops.
Take Them to Friends and Family
How often have you been attending a family gathering or hanging around in the yard of some friends when someone makes a comment about how some burgers and dogs would go well with the setting? If it hasn't happened yet, just wait a while - it will.
The thing is, if the owner of said house or location isn't a grill master or doesn't even have a grill, that limits your options somewhat. If, however, you made the decision as some do to keep a portable gas grill in the back of your truck or car and a spare bottle of gas or two, then you could be up and grilling in no time. Truth be told, you probably wouldn't even have to prepare with the bottle of gas.
That's only one relatively extreme example, and impromptu grilling is a special animal. More than likely you'd be tasked with planning a certain gathering or party and find yourself with a need to accommodate a grill. If you'd be making merry at a location without a grill that tasks you with the job of procurement. At the very least, it saddles someone with the job and if anyone has a portable grill, then everyone's life just became a whole lot easier. If you were all without portable grills, then you'd be going without grilling. And, as everyone knows, grilling is often the life of the party.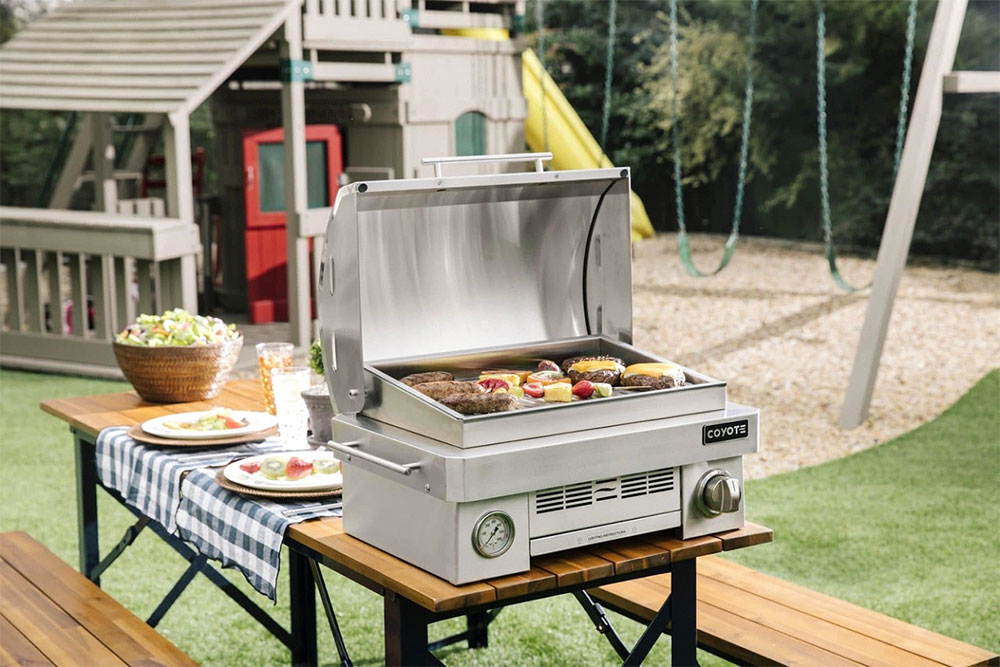 Being able to take a grill with you to spice up a party or a barbecue (for which, by the way, a grill is necessary) is a nice advantage, but it's far from the best reason we can offer. Read on to find out more situations in which portable outdoors grills in gas are the way to go.
Tailgating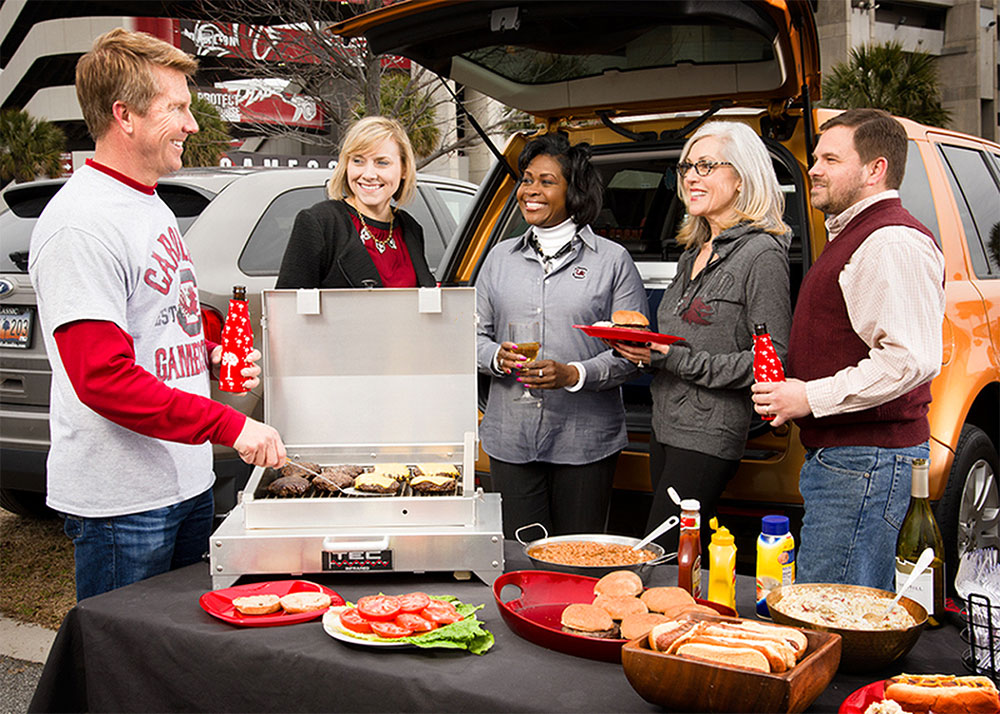 Not everyone loves tailgating, but those that tailgate wouldn't have it any other way. Whether your sport is baseball, football or some other game, the hours you spend around the grill in the parking lot are often more enjoyable than the game itself. In fact, people often spend more time tailgating than they do in the stadium; the good times, great food and better company of the tailgating party often make the actual event seem ant-climactic.
If there's something you can't get away without while you're throwing a tailgating party, it's the grill. You can go to a friend's house and while away the times in the yard playing cornhole and feasting on catered delectables without a grill, but when it comes to a tailgating party the grill is a fixture. To put it bluntly, it's just not a tailgating party without a grill.
Now, a portable grill is important for a tailgate because it's the only type of grill that you can bring tailgating anyway, but there are other reasons that a portable grill using gas as a fuel is more viable. In the first place, you need a portable grill to be able to tailgate in the first place because larger freestanding grills and built in grills are simply not feasible for the given locations. As far as gas, it's simply so much more convenient for the affair. And while many arenas and stadiums are lenient and will allow the use of charcoal, gas is cleaner, faster, and more practical for the situation. Plus, since you'll need to be driving later and will have nothing to do with the remaining live coals, gas is safer in this situation, too.
Picnics and Parks
When you're looking at the option of bringing along a portable grill, gas is often your best option if you'll be picnicking or grilling on public lands like parks. There are quite a few reasons that this is the case.
The first is that many public locations like parks have ordinances that forbid the use of certain fuels like charcoals. This is something that we can't predict here ahead of time; you would need to plan your barbecue or your picnic at a given location before you could be assured of the rules. With that said, however, there are a number of regulations that circumscribe the use of certain fuels so you would need to ensure compliance. Oftentimes, bottled propane is permitted, making gas a viable fuel for usage in situations like these.
Obviously, as well, larger grills are not practical for bringing into parks or other similar public locations. Oftentimes the solution comes in the form of a small portable grill, even the little ones that fold and can be used on the back of a tailgate (see above!) for the ease of their use.
There's no such thing as a barbecue without a grill, and there's no way to bring a picnic to the next level like what you can do by whipping up some delicious barbecued foods on the spot. For that, however, you'll need a portable grill for its convenience and ease of use, and sometimes you'll just need to use gas.
Boating
The salt and sky are perfect companions for grilling, and just like a barbecue in a backyard is a special time, the same could be said of the good times you spend out on a boat with friends, family and loved ones. Whether you have a yacht that you can take far offshore to let the good times roll or you just have a pontoon boat that you bring out on the river, you can make a good time a lot better with some good food - especially if you whip it up yourself on the grill.
However, as much as grilling and boating go together like rioja and brie, boats and grills are not necessarily, shall we say, functionally compatible. There are a lot of precautions that you will need to take as a matter of course to ensure safety.
For example, consider the fact that boats are constantly moving, even while they are moored, if only slightly. Wind and the buoyant nature of water are always sending the boat into motion, however, so slight, which can make grilling hazardous. Using charcoal is not particularly safe for a number of reasons. The wind can disperse sparks, for one thing, and the fact that a swell can rock the boat is an entirely different issue. A charcoal grill is basically a bucket of coals, and that is not a safe thing to have on the deck of a boat. Gas grills have no embers that can be blown asunder by the wind, and on top of that they have no coals to spill if one were ever to tip, god forbid. One other thing to note, though it doesn't have to do with safety, is that some boaters like to use infrared grills for grilling on boats, because the infrared burners are windproof.
Then there is the obvious fact that you can't take a large grill on a boat anyway, so for that you would need a portable grill. For the reasons we mentioned above, gas is clearly the most viable solution - at this point, it is self explanatory.
Camping
Can you imagine a camping trip without cooking over the fire? The meals, ranging from simple meals like beans and bacon finished off by s'mores to an exercise in culinary excellence, are some of the most enjoyable aspects of camping. The time you spend cooking with good friends in camp, and the memories you form, cannot be substituted or replaced.
Now, admittedly, there are those who will do all of their cooking over the open fire they create as a matter of course while camping, and there's nothing wrong with that. That's as central to camping as getting outside and being in nature.
However, for those situations where you can't have a fire, there are portable grills, and when you need a portable grill for camping, as with the other situations in this article, gas is often best.
For example, there are times when the risk of forest fires runs high and so open fires are not permitted, even while camping. Then there are specific parks and preserves that do not allow open fires, even for those who are camping. When you encounter a situation like this, a portable grill is king
Smaller, easier to maneuver and practical for bringing along for a trip, portable grills and camping just go together. Plus, with a little bit of practice and experience, you can cook up meals every bit as delicious if not more so on a portable grill as you can over a campfire.
Give Us a Call
These are some of the situations in which you might find yourself with a pronounced need for a portable gas grill or stove. Rest assured, there are others, but these are some of the most commonly encountered situations in which you'll be glad you prepared with a portable grill.
Whatever you're looking for in a grill, you can find it here on our store. Check out some of our portable gas grills, which offer everything in the way of cooking area and construction. We offer stainless steel models, models with cast iron grill grates and even larger options with hundreds of square inches of cooking space. Many of our models are even easy to clean, as well.
If you find a product you love but would like some questions answered before proceeding, give us a call at 303-800-5659. Our team would be more than happy to talk about specifics, point out significant features or put you in touch with important accessories.