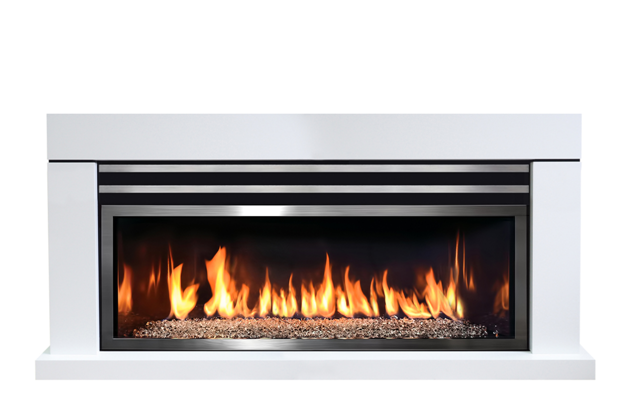 In many different parts of the country, the winds of change are already blowing. The temperatures will start to dip. The cold will start to arrive slowly but surely. You will need a way to stay warm. Sure, you could spend all of those winter nights enjoying perfectly comfortable temperatures from your central heating system, but isn't there just something cozier and more relaxing when you get your heat from a fireplace?
You may be thinking about how great it would be to have a fireplace in your home, but you have concerns. Your first concern is that they are simply too expensive for you to afford and that you couldn't possibly manage the expenses of installing one. Even if you had the finances to add a fireplace to your home, you may look at your home design and think there is no way you can just add a fireplace. Your home is not designed for one and it would require a lot more construction than you have time or money for at this time.
But what if there was a way to take care of all of those fears, to bring a fireplace into your home that is affordable, fits your home even if you don't have the construction of a traditional fireplace, and provides you with that comfort and relaxation that appears in storybooks and movies? With Embers Living and a modern linear fireplace, there is a way to make it happen.
When you choose a modern linear fireplace, you get a fireplace that offers a lot of great benefits to your home that you wouldn't expect and still gives you the aesthetic enjoyment of bringing a fireplace into your home. Today, we will look at some of these factors and why you should choose a linear fireplace to complete your home.
Size - Fireplaces come in all different shapes and sizes, so you have to determine which one is right for you. Luckily with linear fireplaces, you have plenty of options to choose from that can fit into any room and any home. You can get a small fireplace that perfectly fits into a corner of the room or a long linear fireplace of up to 20 feet that runs through an entire wall of your basement, living room or den.
Design - Many people like the look of traditional fireplaces but can't actually get a traditional fireplace in their home. Linear fireplaces can offer various looks from modern to traditional to rustic and everything in between. It allows you to get a fireplace that fits the decor of your home so you get a piece that fits right in and becomes the center of attention in any room.
Efficiency - A fireplace is ultimately another heat source, so it can actually help you save money on your energy bills and change the way you heat your home or a specific room during the colder months. Choosing a fireplace allows you to have a place where everybody can be comfortable without having to crank the central heat.
Easy Maintenance - Traditional fireplaces are great to look at and offer a great aesthetic, but you also have to clean up after every use and that can get tedious after awhile. With a modern linear fireplace, there is virtually no maintenance needed other than an annual check to make sure everything is functioning properly. It makes it much easier to enjoy the fire every night when you don't have to worry about extensive cleanup and maintenance.
Easy Operation - Starting a fire with a traditional fireplace can take some extra time since you need to gather firewood and light the fire and get it going. With a linear fireplace, it is much easy to operate so you can get an immediate fire going. With just the flip of a switch, you can start and stop a fire, making it easy to enjoy a fire at a moment's notice.
Price - Buying a fireplace is an investment, no matter which model or style you buy. But you can find some affordable options when you choose a linear fireplace that will not only last for many years but requires little maintenance or supplies to use. When you can save on materials, save on cleanings and maintenance and save on energy bills, that is a winning formula and a solid investment. You can find affordable fireplaces with Embers Living, and choosing one of these linear fireplaces can make it even more affordable for you and your family.
So head on over to Embers Living and browse the selection, the styles and the sizes of fireplaces that are available and find the right modern linear fireplace for your home so you can get the comfort and relaxation of a realistic and natural-looking fire in your home. Maybe this has been a dream of yours for some time. Make it a reality and choose Embers Living to make it happen.