Majestic Twilight II Modern Contemporary Indoor/Outdoor Fireplace
Majestic
SKU:
TWILIGHT-MD-IFT
Description
An evolution of the industry's first indoor/outdoor see-through fireplace. Offers impressive fireside views whether inside or out.
Unique indoor/outdoor viewing for increased fireside views

Artistic flames rise through a crushed glass firebed for eye-catching details

No chimney or venting required, blending your fireplace effortlessly into your outdoor space

IntelliFire™ Ignition System with wall switch constantly monitors ignition and ensures safe functioning

36" wide fireplace adds enjoyment to your space
Includes:
38,000 Btu/Hour Input (NG)

36,000 Btu/Hour Input (LP)

Black glass media

Reflective black glass refractory

Gas flex connector

Manual gas shut-off valve

Junction box

Battery backup

Exterior front
* Required to Complete - Sold Separately:
1 non-operable front required for Interior

Units are built NG. Conversion kit required for LP.
Options and Accessories
With Direct Vent fireplaces and inserts, 100% of combustion exhaust and fumes are removed from your home. These sealed fireplaces provide optimal heat, conserve energy and ensure clean, safe indoor air quality.
UNIT SPECIFICATIONS
| | |
| --- | --- |
| Appliance Width: | 43" |
| Appliance Height: | 46-7/8" |
| Appliance Depth1: | 24" |
| Appliance Rear Width: | 43" |
| Framing Width: | 44" |
| Framing Height: | 47-5/8" |
| Framing Depth2: | 23" |
| Framing Front Width: | 44" |
| Framing Back Width: | 44" |
| BTU/hr Input: | 38,000 NG |
| Viewing Area: | 35-5/8 x 21-1/2" |
Appliance Depth includes entire unit including depth of firebox and extension onto hearth.

Framing depth will vary if you are installing the lower profile power vent (PVLP-SLP) with a minimum vent configuration. 12-1/2" is needed from the back of the appliance to the outside of the exterior wall. Refer to manual for details.
Heat output will vary depending on the type of fuel used. The flame and ember appearance may vary based on the type of fuel burned and the venting configuration used. Actual product appearance, including flame may differ from image shown. Refer to the owner's manual for complete clearance requirements and specifications. Product specifications and pricing subject to change without notice. For testing and listing information please refer to the owner's/installation manual.
*For select products: Heating capacity to be used as a guide only. See your local dealer for help in determining the product that best suits your heating needs based on climate and home efficiency.
Front View - Indoors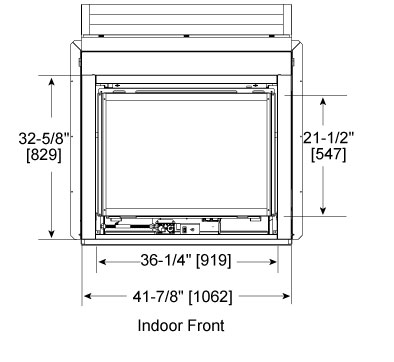 Front - Outdoors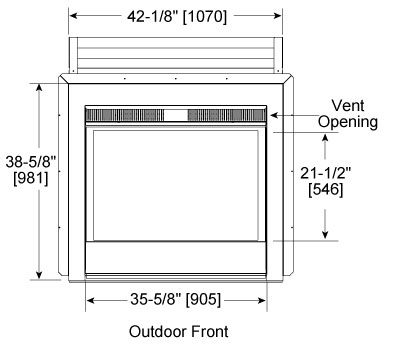 Left View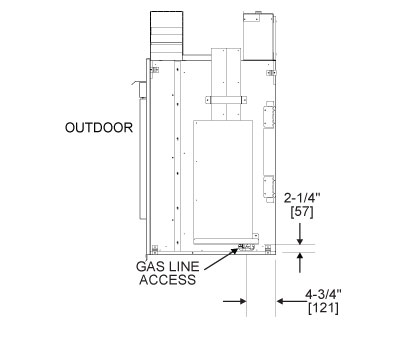 Right View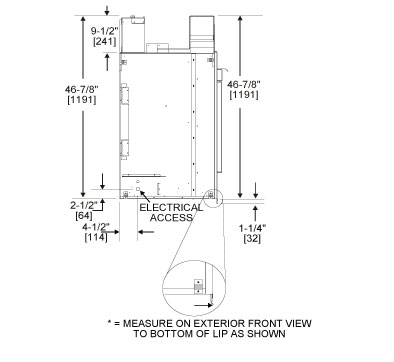 Top View
Basic Clearances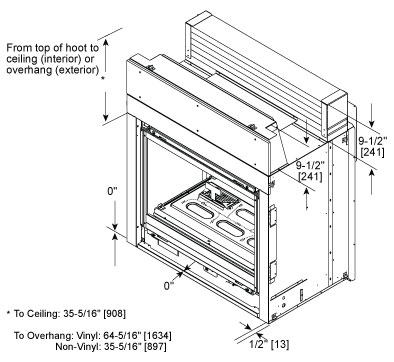 Framing Dimensions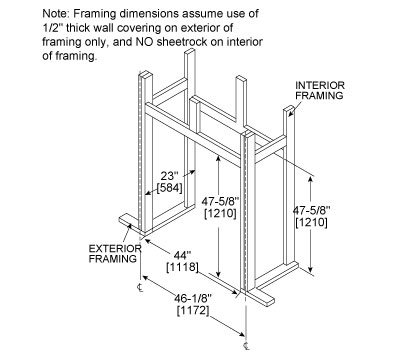 Unit Locations