Majestic Jade 42" Direct Vent Gas Fireplace with IntelliFire Touch Ignition System
Majestic
SKU:
JADE42IL-B/JADE42IN-B
Description
The Jade fireplace helps you unwind and rebalance with a ribbon of continuous flame and a soothing style. With its great looks, many features, easy operation and the reliability of Majestic, life is better. Sit back, relax and enjoy your home with the Jade fireplace from Majestic.
Stunning continuous flame in a popular linear design

Customize the interior with reflective Black Glass panels, driftwood logs, natural stones, glass firebed colors and LED lighting

Add a SmartWall™ TV Kit and mount your TV 12" above your fireplace with no mantel required

Enjoy your fireplace any season by using heat distribution kits to direct heat where you want it, inside or outside your home

Available in 32" or 42" models that fit well in a variety of spaces, including corners

Efficient fireplaces meeting qualifying rebates if available in your area
Includes:
17,500 - 25,250 Btu/Hour Input (NG)

17,500 - 25,500 Btu/Hour Input (LP)

IntelliFire Touch ignition system

Bronze glass media

Gas flex connector

Tempered glass

Junction box & Battery backup

Manual gas value shut-off

4" x 6-58" top vent collar

If installing a SmartWall Kit you cannot use a Power Vent

If ordering lights or fan, must order IFT-RC400

If changing media, follow required number of bags below:

Glass media: 3 bags of glass

Natural stones: 6 bags of stones

Log set & stones: 1 bag of stones
Key Features:
Direct Vent Technology
With Direct Vent fireplaces and inserts, 100% of combustion exhaust and fumes are removed from your home. These sealed fireplaces provide optimal heat and conserve energy
Heat Zone Technology
Draw heat from your fireplace to another room in your home, up to 20 feet away. When a Heat-Zone kit is run continuously, it can redirect up to 25% of the heat to another area, also reducing wall temperatures above the fireplace. Two Heat-Zones run continuously will redirect up to 50% of the total heat output.
Power Venting Technology
Fireplaces aren't just for exterior walls. A fan-powered accessory with slim venting can zigzag throughout your home—up, down, over or under – making it possible to install a gas fireplace virtually anywhere. This ensures safe fireplace operation and the best flames. Check with your local hearth professional to determine if your home or fireplace could benefit from power venting technology.
Options and Accessories
Fronts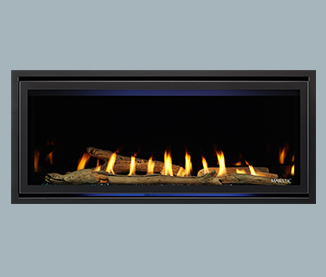 UNIT SPECIFICATIONS
| | |
| --- | --- |
| Appliance Width: | 48" |
| Appliance Height: | 33-11/16" |
| Appliance Depth1: | 17-3/4" |
| Appliance Rear Width: | 49" |
| Framing Height: | 32-3/4" |
| Framing Depth2: | 17-3/4" |
| Framing Front Width: | 49" |
| Framing Back Width: | 49" |
| Fuel Type: | Natural gas or liquid propane |
| BTU/hr Input: | 25,250 (NG); 23,500 (LP) |
| Heating Capacity3: | Up to 1,200 sq ft |
| Viewing Area: | 39 x 15-1/4" |
Appliance Depth includes entire unit including depth of firebox and extension onto hearth.
2 Framing depth will vary if you are installing the lower profile power vent (PVLP-SLP) with a minimum vent configuration. 12-1/2" is needed from the back of the appliance to the outside of the exterior wall. Refer to manual for details.
3 This is a general guide, see your local dealer for help in determining the product that best suits your heating needs based on climate, home efficiency, location of the heater, and air movement in the room.
Heat output will vary depending on the type of fuel used. The flame and ember appearance may vary based on the type of fuel burned and the venting configuration used. Actual product appearance, including flame may differ from image shown. Refer to the owner's manual for complete clearance requirements and specifications. Product specifications and pricing subject to change without notice. For testing and listing information please refer to the owner's/installation manual.
*For select products: Heating capacity to be used as a guide only. See your local dealer for help in determining the product that best suits your heating needs based on climate and home efficiency.
Front View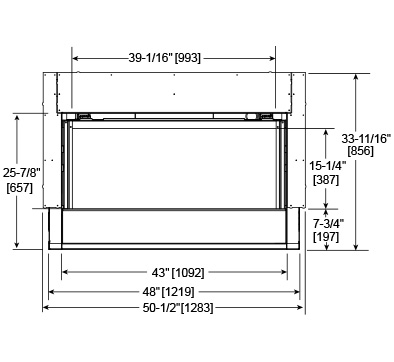 Top View
Left View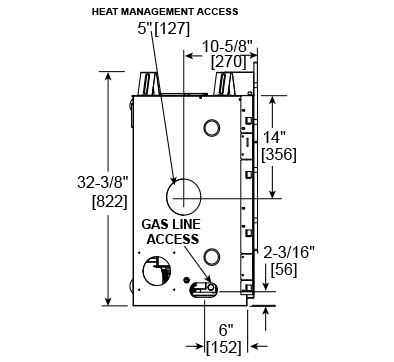 Framing Dimension
Right Side View
Basic Clearance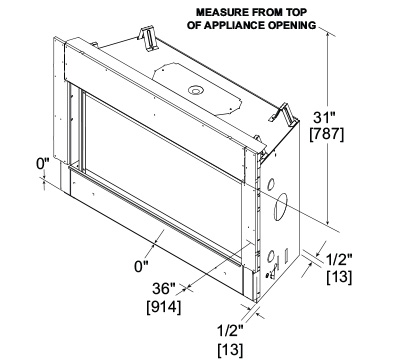 Efficiency
| | |
| --- | --- |
| AFUE: | 64.3% (NG) / 71.1% (LP) |
| Canada EnerGuide: | 63.8% (NG) / 69.9% (LP) |