Majestic Biltmore 42" Radiant Wood Burning Fireplace
Majestic
SKU:
SB80/SB80HB
Now:
$2,799.00 - $2,859.00

Description
The Biltmore is the largest wood burning fireplace in the industry. With larger than life style, classic masonry appeal and a viewing area like no other, the Biltmore will add charm and distinction to your home.
Three sizes available; 36", 42" and 50" (50" size not available in Canada)

Clean face design enables finishing materials to be applied up to firebox opening

Can be installed flush with floor or on a raised hearth

Impressive, masonry-style traditional or herringbone molded brick panels

Get information regarding pricing, promotions, and installation for the Biltmore Wood-Burning Fireplace.
Includes:
Full refractory lining in traditional or Herringbone pattern

Powder coat finish

Safety firescreen

Dual gas knockouts

Steel grate

Outside air kit

Attic insulation shield

UL/ULC Listed
Options and Accessories
Customize the interior of your fireplace with these alternate firebrick kits
These bifold doors feature a side opening and add a decorative finish to your fireplace. Doors must be kept open when the fireplace is lit.
Available in Classic Black and Stainless Steel
These classic Black mesh cabinet style doors add traditional appeal & protection from errant sparks.
These attractive black mesh cabinet style doors finish off your fireplace beautifully.
UNIT SPECIFICATIONS
| | |
| --- | --- |
| Appliance Width: | 50-1/2" |
| Appliance Height: | 59-1/4" |
| Appliance Depth1: | 27-1/2" |
| Viewing Area: | 42 x 28-1/2" |
Appliance Depth includes entire unit including depth of firebox and extension onto hearth.
Heat output will vary depending on the type of fuel used. The flame and ember appearance may vary based on the type of fuel burned and the venting configuration used. Actual product appearance, including flame may differ from image shown. Refer to the owner's manual for complete clearance requirements and specifications. Product specifications and pricing subject to change without notice. For testing and listing information please refer to the owner's/installation manual.
*For select products: Heating capacity to be used as a guide only. See your local dealer for help in determining the product that best suits your heating needs based on climate and home efficiency.
†For wood-burning appliances: Actual burn times will vary based on how the appliance is operated, load size, moisture content and type of wood used, and installation.
Front View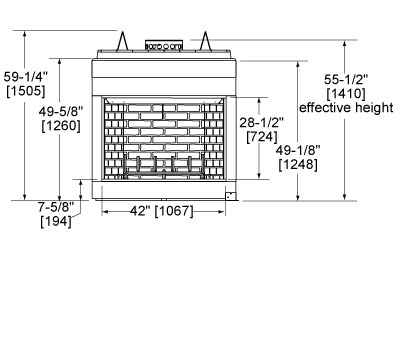 Side View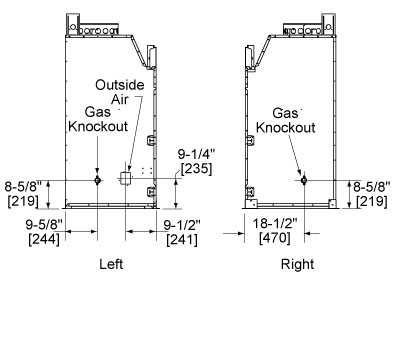 Top View
Unit Locations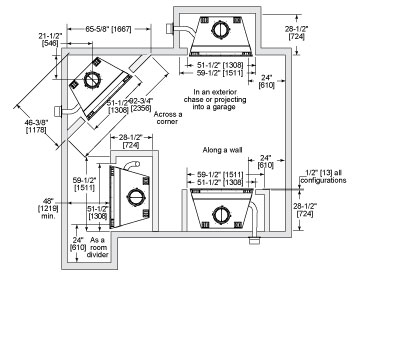 Framing Dimension
Basic Clearances