Product Description
The Free Stand – Electric Fireplace
A distinctly European styled free standing electric fireplace from Sierra Flame by Amantii. This Fireplace features a beveled glass viewing area that gives an almost 'see-thru' effect on three sides.
With no installation boundaries, no need for mounting brackets or building into a wall, this free stand model goes in any room you like.
Virtually no assembly required – just simply plug in and enjoy!
Fireplace Features:
Heater & Fan
Temperature maintenance control - keep your space warm & cozy
Perfect for zone heating approx. 400 sq. ft.
Stunning flame - from contemporary to life-like traditional
Change the appearance of included media like never before with the NEW LED ambient canopy lightig in 13 colors.
Vibrant multi-colored state-of-the-art flame that is easily changed from blue to purple to violet to orange or yellow with just a click of the remote.
Three color strips generate more flame options than ever!
Thermostat hard-wire ready
Electrical hard-wire ready
Ambient canopy lighting in 13 colors
Heats approx. 400-500 sq. ft.
Dual Flame technology - 2 flame sets
Flame operates with or without heat
Remote control for flame and heater
Comes with 11 piece log set, sable glass and Himalayan salt crystals.
Optional decorative media selections are available.
The Sierra Flame Advantage
All Sierra Flame units are manufactured with the highest quality parts available, from the smallest component to the 18-20 gauge body and stainless steel burner. Our units are designed for ease of installation and servicing and our focus is on keeping the styles fresh and current. As well, our realistic and exceptionally large flame is a noticeable feature that sets us apart from the competition. Our standard units include upgrades that would be costly add-ons with other suppliers like the remote control, quality fire glass media and decorative rock set. We offer to you a finely tuned selection of units -- focusing on quality not quantity and hope that you choose a Sierra Flame fireplace to enjoy for years to come!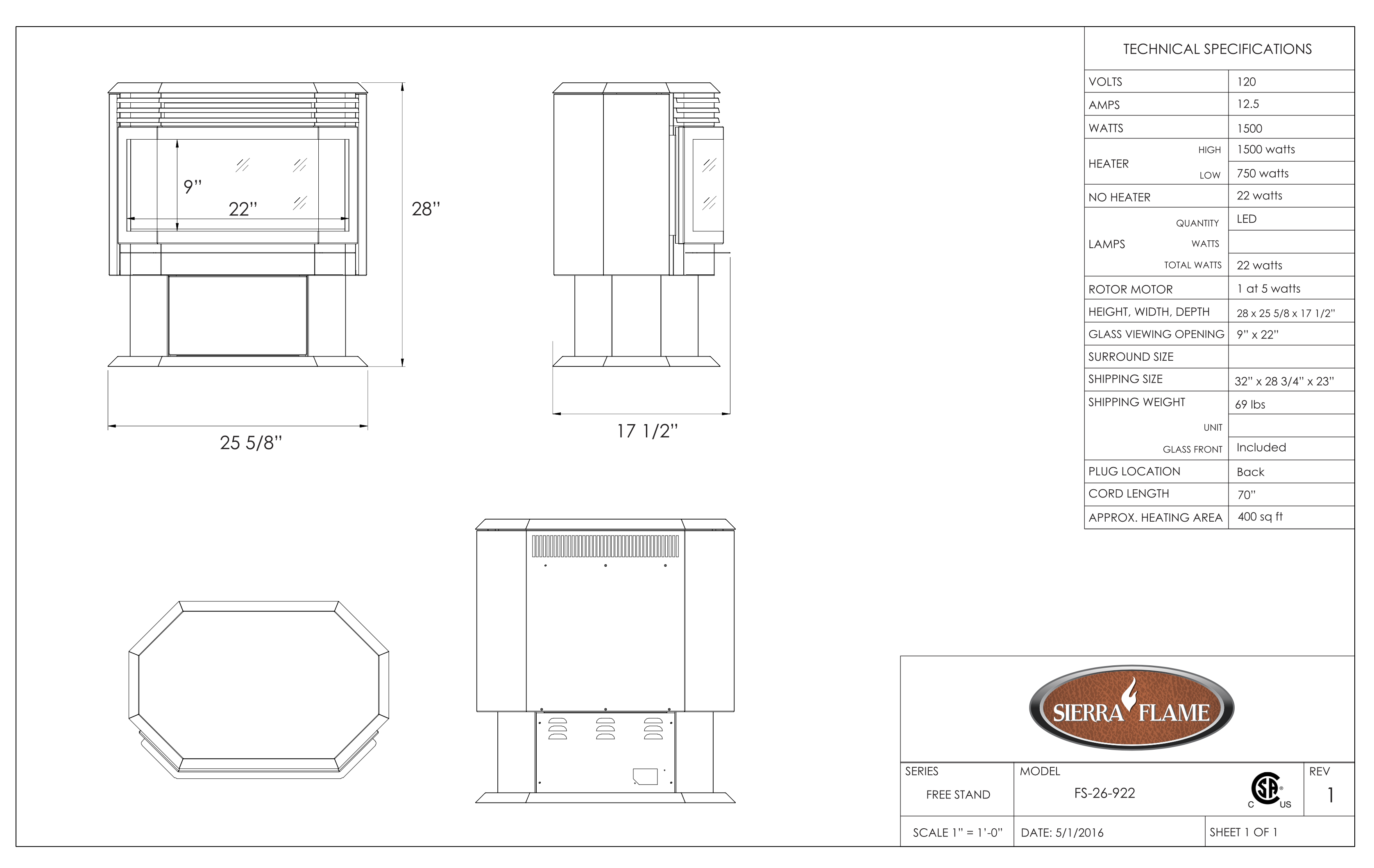 Other Details
TWO YEARS- free replacement parts, no labor covered
Product Videos
Custom Field
Product Reviews