Product Description
Description
The Regency Liberty L234 is a clean front fireplace insert that slides easily into your existing drafty steel fireplace and transforms it to a high efficiency heater. This small direct vent gas insert is perfect for airtight homes or basements because the sealed firebox doesn't use in-home air.
Sleek, efficient upgrade to keep the heat in your homeCompact, yet powerful insert provides ample heating and ambience
Choice of two tasteful style of finishing faceplates that frame the beautiful fire.
Operates on natural gas or propane
23,500BTU with turn down to 12,500BTU (NG); 21,500BTU with turn down to 11,000BTU (LP)
Standing pilot with DC sparker
Standard unit includes: body with 30° termination, ceramic glass, variable speed thermostatically controlled blower burner & log set, millivolt valve with flame adjustment control, Proflame GTMF remote &
safety screen (built in to required faceplate)
* LP Conversion Kit includes burner orifice, stepper motor, 5/32 Allen Key and pilot orifice
The blower speed on this unit cannot be adjusted from the remote, even if the remote may show this capability.
Features
Direct Vent Technology
Regency Direct Vent Fireplaces maintain indoor air quality by drawing fresh air from outside through our specialized venting system into a sealed firebox and sending the exhaust back outdoors.
Remote Control
Create optimal comfort with ease and convenience at the touch of a button. Our user friendly programmable controls can be set, adjusted and programmed for your fireplace to come on at the temperature you want and when you want it.
Safety Screen
Regency has integrated a custom designed safety screen into each faceplate design that meets or exceeds current North American safety legislation.
Variable Speed Blower (Standard)
Standard feature on some of our gas appliances. A blower will let you enjoy the warmth of your fireplace from any corner of your living space. The blower can dramatically increase the circulation of heat in your home.
Power's Out - Heat's On
Never worry about being cold in a power outage. All Regency gas and wood units operate without electricity. Electronic ignition units have a battery backup system.
Limited Lifetime Warranty
When you purchase a Regency, you own an award winning product designed for great looks, ease of use and superb performance. Quality is engineered into every component, from the heavy duty steel firebox to intricate laser cut decorative accents. Each Regency fireplace is backed by the most comprehensive warranty program in the industry.
Options and Accessories
Faceplate
Inner Panels
Safety Screen
UNIT SPECIFICATIONS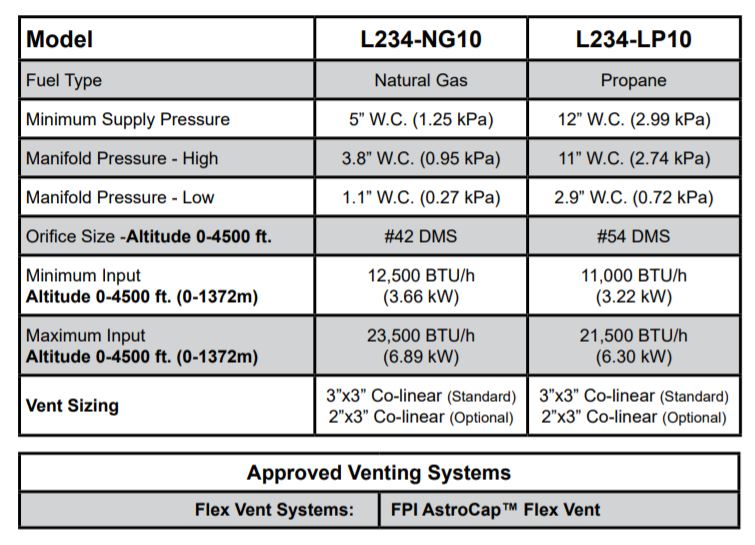 Dimension
Product Videos
Custom Field
Product Reviews